For the best sauce to serve with lobster ravioli, try this easy recipe. This garlic cream sauce with browned butter is so rich, fancy, & decadent. This homemade sauce cooks up quickly and as the shallots and garlic infuse flavor into the browned butter, the kitchen smells amazing. The nutty brown butter then gets some heavy cream and a touch of magic, brandy. Once it comes together it turns into a beautiful light pink creamy sauce perfect for lobster ravioli.
Wondering why this is the perfect sauce to serve with lobster ravioli? Well, it is simple and it complements the rich flavor of the delicate shellfish filling. I wanted something creamy to serve with lobster ravioli. I didn't want pesto or a tomato sauce. I tried browned butter sauces, lemon sauces, and cream sauces. I liked them all but wanted more. So to make the best easy sauce to toss with lobster ravioli, the perfect combination of browned butter, cream, and garlic is my all-time favorite. I think my family agrees. Both my husband and Enzo fell in love with this sauce so much that Enzo literally scraped the plate clean to get every drop of sauce.
Ingredients for Lobster Ravioli Sauce
This browned butter and creamy lobster ravioli sauce recipe call for only a few ingredients. To make the best sauce use good quality ingredients that are full-fat, do not use low-fat dairy when making this pasta sauce. Salted butter, heavy whipping cream, and freshly shaved parmesan create the creaminess that makes this lobster ravioli sauce so comforting. A few spices and aromatics like shallots and garlic bring in a sharp bite to cut the richness of the cream sauce. For a decadent touch, the brandy is the final touch that sets this sauce over the top.
This sauce recipe goes well with any brand of store-bought lobster ravioli. So whatever your favorite is, this recipe for a cream sauce pairs perfectly. It is a good sauce for all the common brands of lobster ravioli like Costco, Trader Joe's, Rana, and more. If you love seafood ravioli from restaurants like Carrabba's, Olive Garden, or Red Lobster, this sauce recipe is so much better. This creamy garlic sauce is good with shrimp, crab, and butternut squash ravioli.
How to Make the Best Sauce for Lobster Ravioli
This recipe only takes a few minutes to make. By the time the fresh pasta is done cooking, the sauce has come together. This is a quick and easy meal that is great for a weeknight. However, lobster ravioli with this gourmet recipe is fancy enough to enjoy for a special meal, with guests, or for a date night at home.
Boil the Store-Bought Lobster Ravioli
Bring a large pot of water to a rolling boil and add a large pinch of salt. Cook the ravioli to al dente according to the directions on the package. Make sure not to overcook the ravioli so it doesn't fall apart and the filling starts to come out. Drain the pasta, reserving about ¼ cup of the cooking water.
** WHILE THIS IS COOKING START THE SAUCE SINCE IT DOESN'T TAKE LONG TO MAKE IT **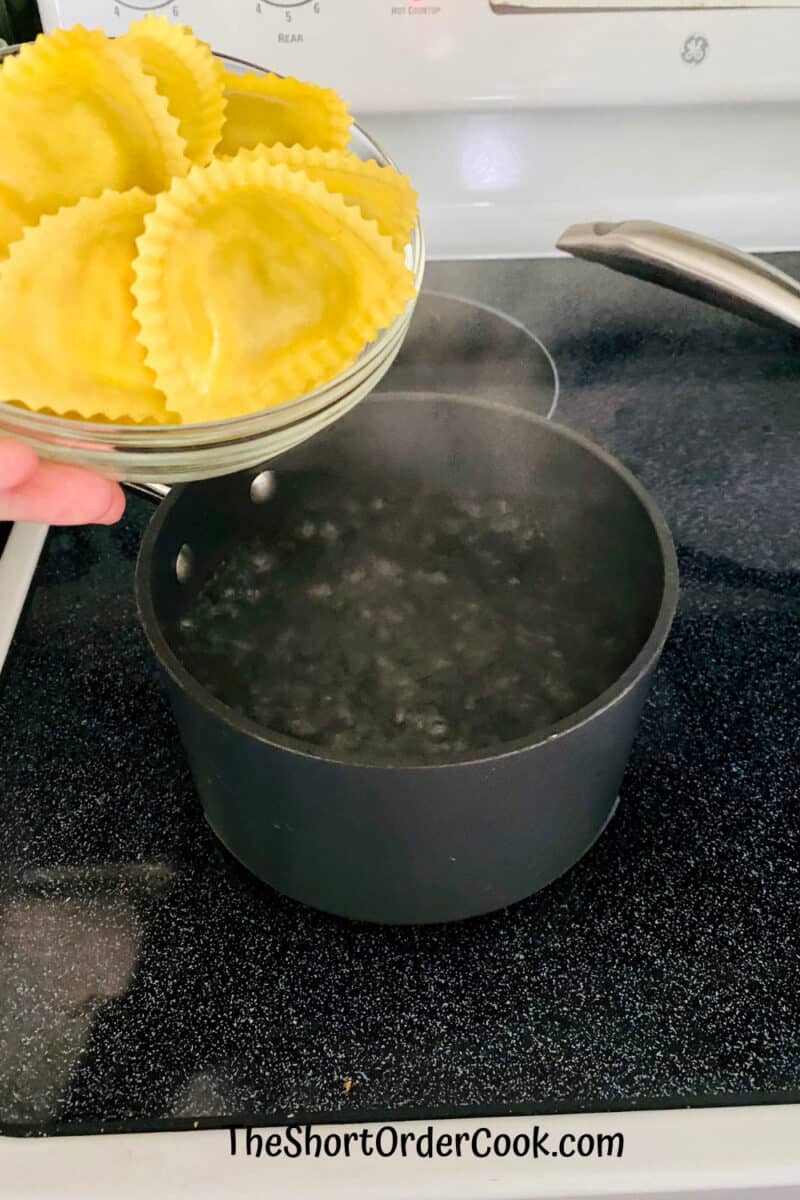 One-Pan Lobster Ravioli Sauce
Grab a skillet that will be large enough to make the sauce and hold all the cooked ravioli, start warming it up on medium heat. Add the butter and stir to melt. Be sure to not leave it unattended so that it doesn't burn. Once it is melted, lower the temperature to medium-low. You will want to brown the butter but not too dark.
Once the butter is foaming and golden brown in color, turn the heat down to low. You do not want it a dark brown color as it will continue to cook when adding the other ingredients. Next, add the garlic and shallots to the butter sauce. Cook for 1-minute stirring. You want them to soften and infuse flavor into the butter.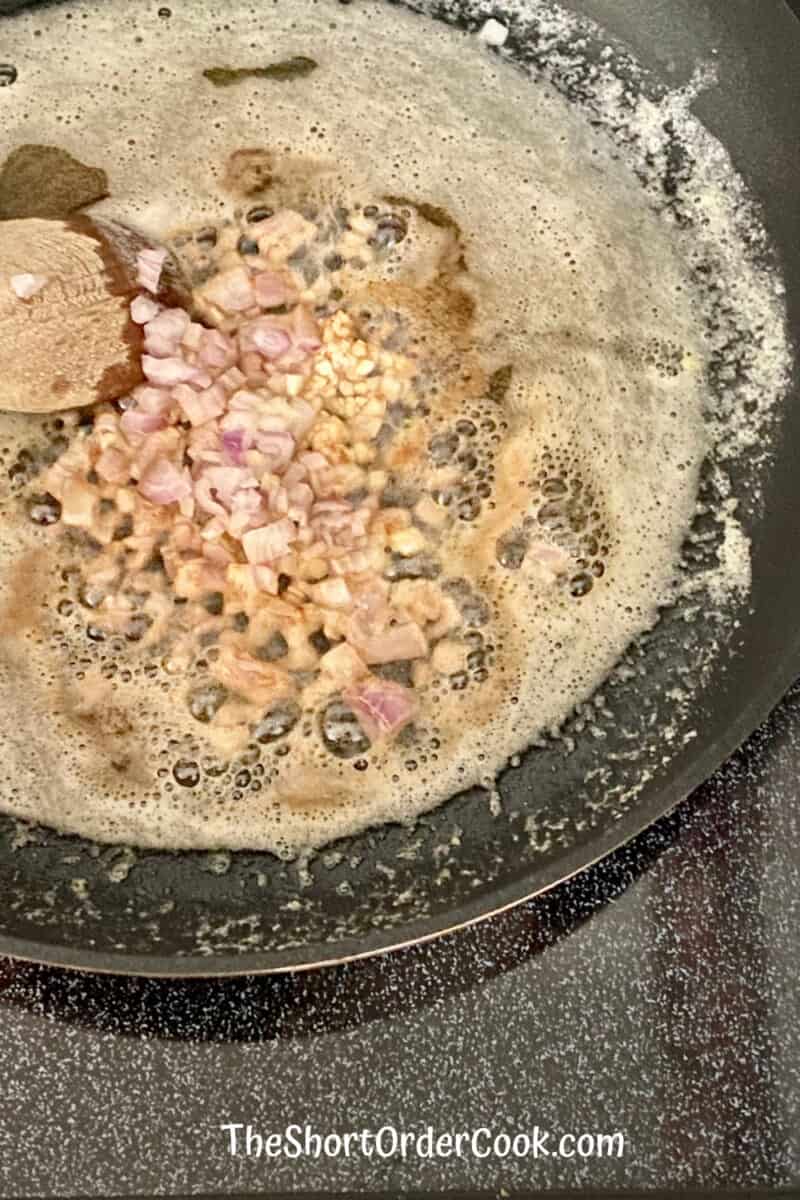 Add Brandy or Lemon Juice to the White Sauce
Depending on if you want to use brandy or lemon juice, it will be a different timing of when you add it to the cream sauce. When using brandy, add it before the cream. However, when using lemon juice, add it after the cream. The lemon juice should be the last ingredient for the sauce just before you add the lobster ravioli. This is so the cream and lemon juice do not curdle which can happen sometimes.
For Brandy Cream Sauce
Once the garlic and shallots have just started to brown, it is time to add the brandy. Add it to the pan. Cook for 1 minute to allow the alcohol to cook a bit off. The last step will be to add the cream and season with salt & pepper to taste. The beautiful pink color of this sauce will come together.
For Lemon Butter Sauce
If you want a lemon cream sauce for lobster ravioli, simply omit the brandy and replace it with fresh lemon juice. When using lemon juice, you will want to add the heavy cream to the sauce right after the garlic and shallots are ready. Next, stir in the heavy cream and combine. The last step will be to turn the heat of the pan off and add the lemon juice and stir.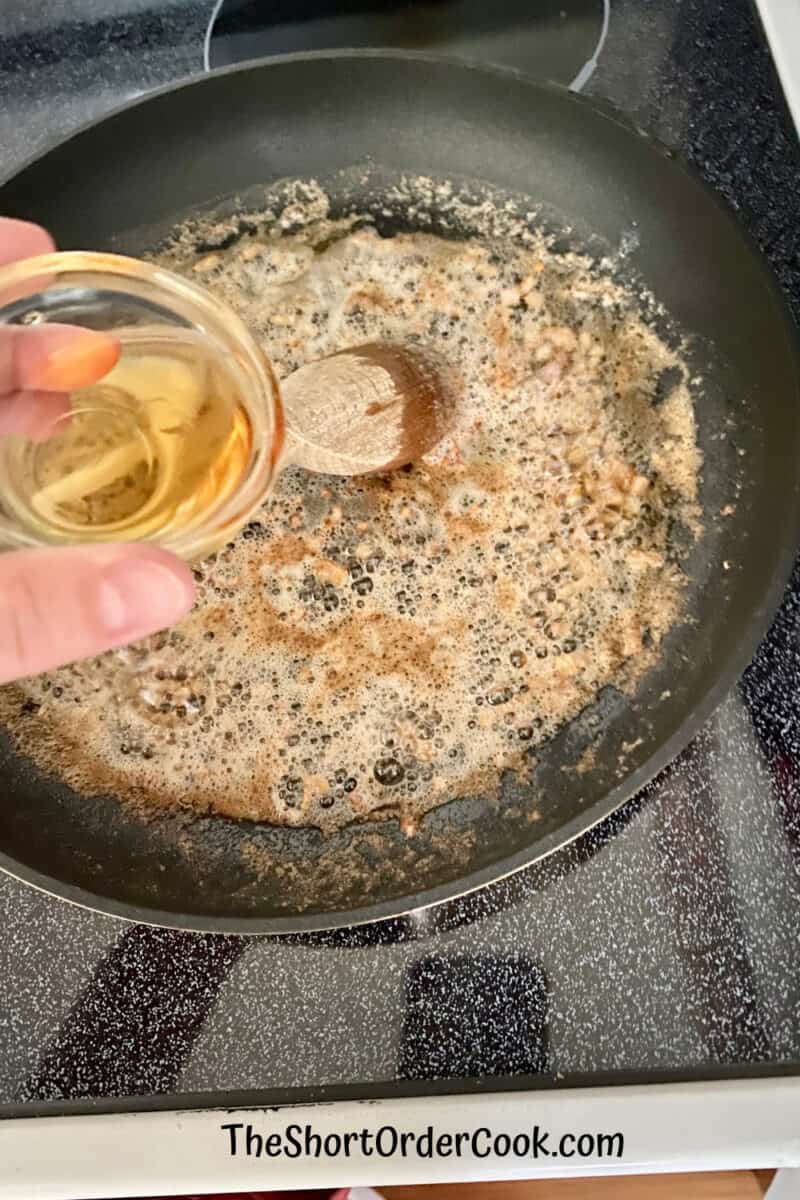 Best Way to Sauce Ravioli
Once the lobster ravioli is done, the best way to sauce it is to add it to the sauce that is now ready in the skillet. So that the ravioli does not fall apart or break open, I like to add 1-2 ravioli at a time either with my hand or gently with tongs. To begin, add the cooked lobster ravioli in a single layer over the browned butter cream sauce. Spoon in the reserved pasta water. This will help thicken the sauce and make it a bit sticky to adhere to the portions of ravioli. Finally, gently stir the sauce over the pasta to coat. Plate in a pasta bowl and top with shaved parmesan and fresh parsley.
How to Store and Reheat Lobster Ravioli
It is best to eat this lobster ravioli and cream sauce immediately. However, if you do make a large batch and have leftovers, you can store them for up to 3 days in the refrigerator. Place the leftover lobster ravioli that has been sauced in an air-tight container. If you have not combined it all, you can store each separately in air-tight containers. To reheat, microwave on low and add a touch more cream to bring the sauce back to a creamy texture; otherwise the cream does separate and it is more of a butter sauce.
What to Serve with Lobster Ravioli
For the best side dishes to make and serve with this lobster ravioli recipe, try some of these ideas. These go well with the rich seafood ravioli and the cream sauce to make a complete meal at home.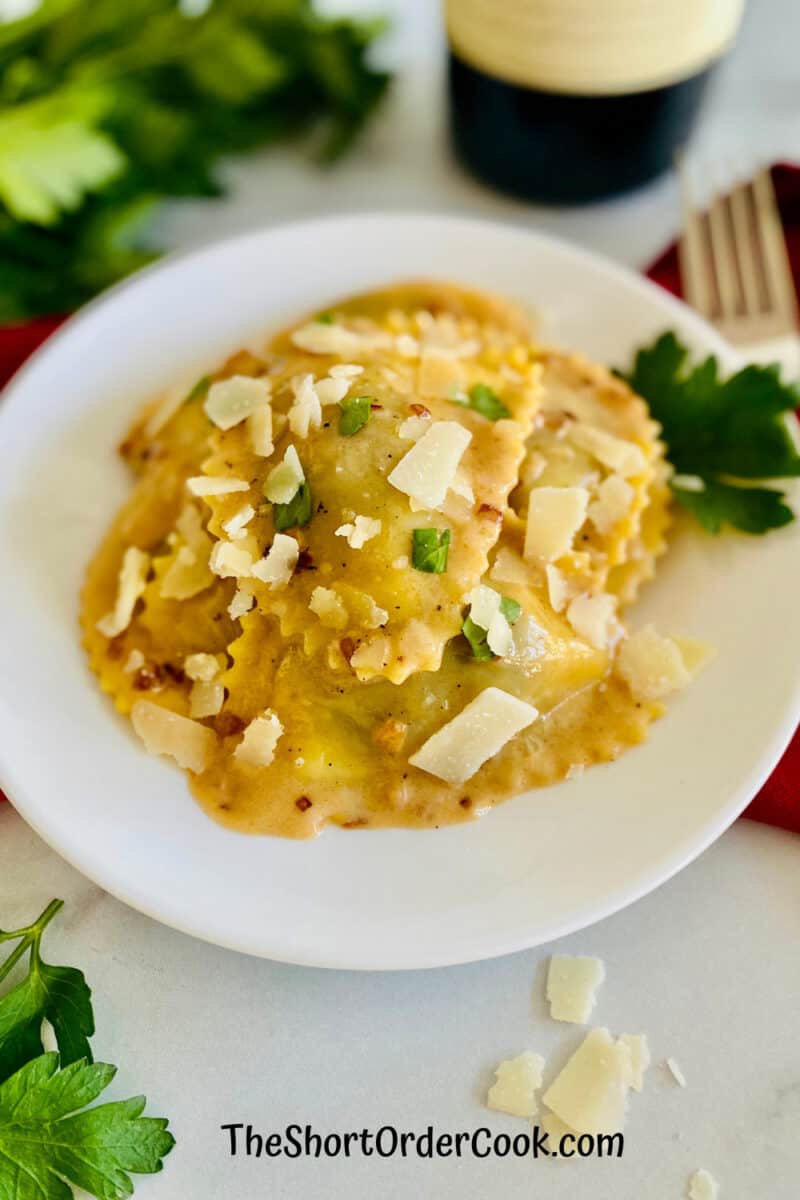 PIN FOR SAFEKEEPING & SHARING!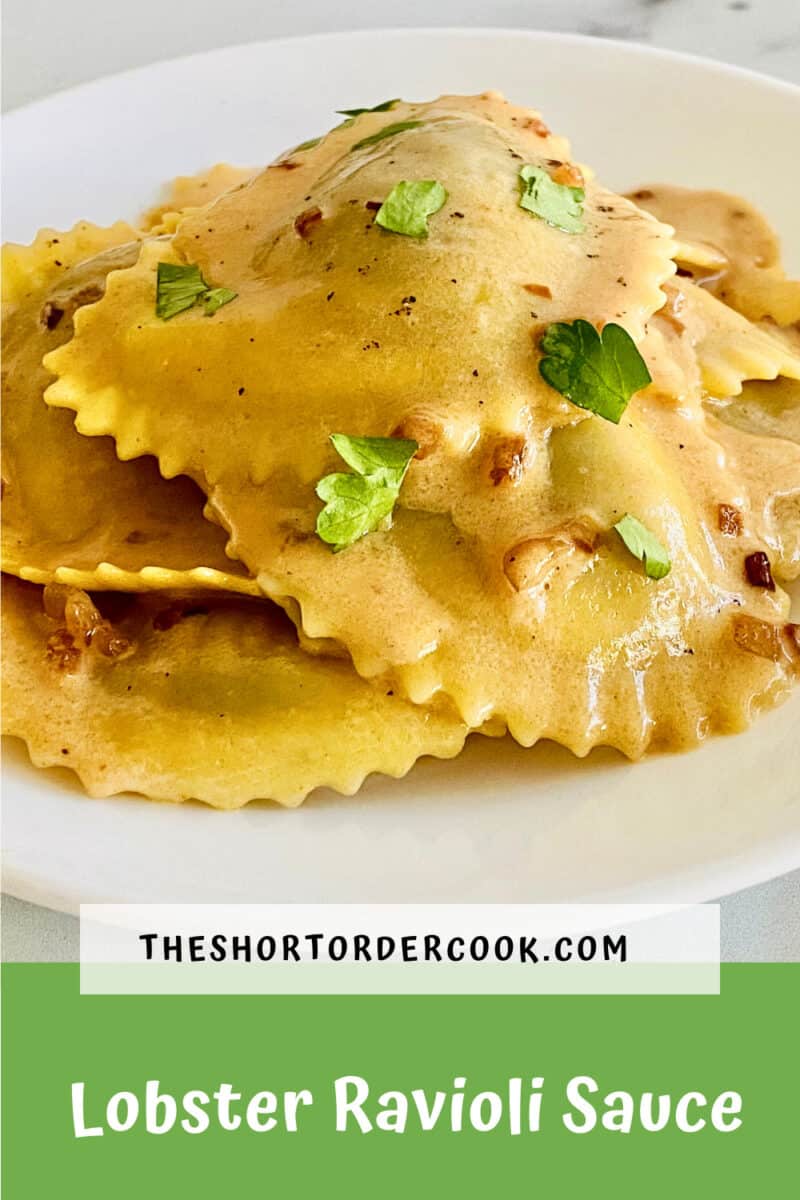 Product Recommendations for this Recipe - #ad:
The Short Order Cook is a participant in the Amazon Services LLC Associates Program. As an Amazon Associate, I earn from qualifying purchases. If you click on a link and make a purchase, I may earn a small commission on the sale at no additional cost to you. This helps with the costs of running the blog. Thank you!
Did you make this The Short Order Cook Recipe?
Tag @theshortordercookblog (Instagram & Facebook) or @shortorder_cook (Twitter).
I would love to see your latest creations and kitchen adventures.