This homemade slow cooker beef chili recipe is the best since it is so full of flavor thanks to several spices, smokey bacon, and a rich tomato sauce.  It is a great no-bean ground beef recipe that everyone should make part of their regular easy dinner rotation. This is the best keto chili con carne - it is almost all carne (meat) without frijoles (beans) and it's totally amazing.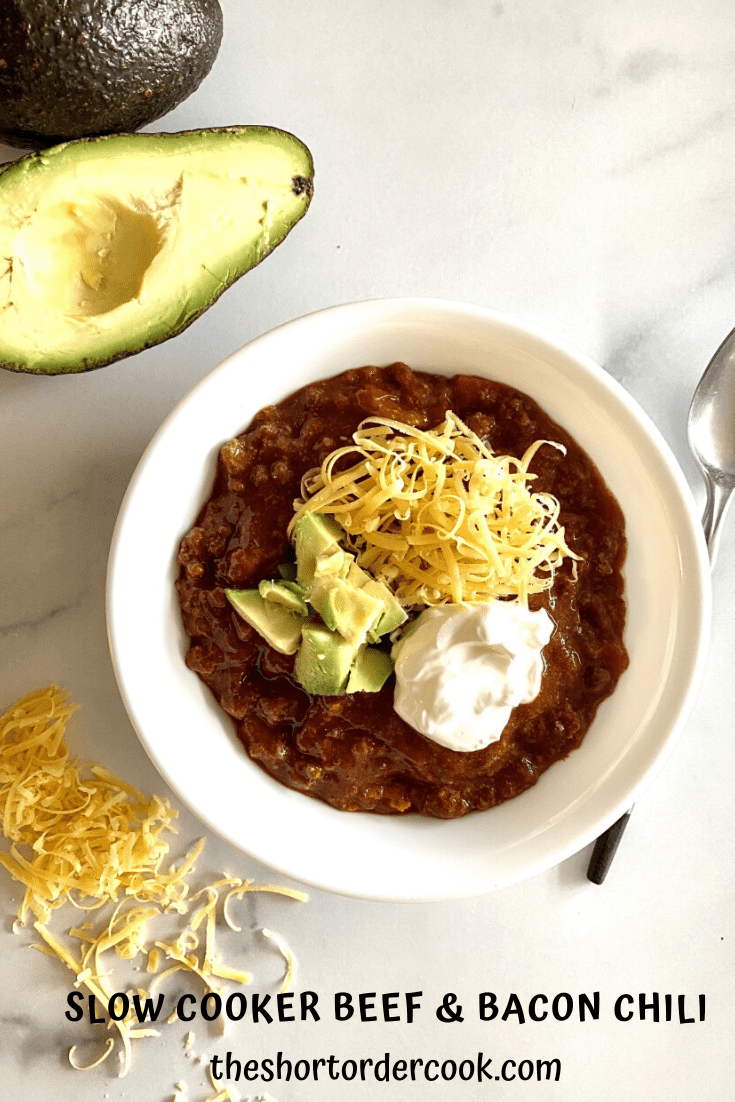 This tasty beanless red chili has simple ingredients that pack in a lot of flavors and it can be adjusted to be mild or spicy. This is one of the quickest ground beef recipes to put together and into the Crockpot. The key to a hearty keto slow cooker beef chili recipe is keeping it low-carb without the beans. Plus it is important to have added fat and protein-rich toppings like bacon, cheese, avocado, and sour cream.
Slow cooker chili con carne is hearty, chunky, and simmers in rich tomatoes and spices for the most amazing bowl of chili. The perfect chili seasoning mix plus crispy bacon, then add fun and delicious toppings for the ideal low-carb keto chili. You will never miss the beans in your chili again. 
Jump to:
What Meat to Use for Chili
My classic chili recipe calls for ground beef but any combination of ground meats will work. If you prefer other ground meats such as turkey, pork, bison, venison, or any mixture, they can all be used in this keto slow cooker recipe. All will work and can meet your dietary or taste preferences.
You can even brown chunks of beef roast and then add to or replace the ground beef. By the time the slow cooker does its magic, the beef will shred and be so tender (just make sure if you use beef pieces vs ground beef, the slow cooker needs 8 hours on low vs 6 hours on low). This makes the ultimate chili con carne without beans! It would be an award-winning recipe for any friendly chili cookoff, vote for bacon.
Why Enjoy Chili Without the Beans
Fewer Carbohydrates - the carbs in chili without beans is very low, this recipe has only 6 net carbs for a large bowl
The original chili recipe refers to meat cooked with red chili peppers. (chili con carne - chili with meat) Chili does not refer to beans.
Beans for many people are not an "agreeable food"
More meat and flavor when you leave out bland beans (really just a filler)
After all, a classic chili recipe has no beans. It is just hamburger meat, spices, and chili peppers.  This easy chili recipe is perfect for all chili lovers, especially those on a keto, soy-free, gluten-free, diabetic, paleo, or low-carb diet since it is so tasty without any beans or fillers.
When I was in college one of my favorite easy fast meals was making a baked potato in the toaster oven and then topping it with this chili & some cheese. Or top sweet potato fries or air fryer french fries with this chili for the best appetizer or game-day food.
Ideal Toppings for Chili - Set up a Chili Bar
shredded cheese
sour cream
avocado
cilantro
lime juice
crumbled bacon
jalapenos, other peppers
salsa or diced tomatoes
chopped onion or scallions
additional hot sauce - for those that want a lot of heat!
What to Serve with Chili
Here are some delicious recipes that go well with chili. I have included some keto-friendly recipes. Most are also gluten-free and all are fantastic. I love this chili as a side for BBQ nights with meats like grilled tri-tip steak or grilled boneless skinless chicken thighs.
More Recipe Ideas Using Beanless Chili
Here are great ways to enjoy this chili. These recipes are great for using up leftover chili without beans.
Poach an egg, then put both on a grain-free keto roll, recipe HERE
Top a hot dog or hamburger
Top zucchini noodles or spaghetti squash
Use a topping on nachos or in a burrito
Ingredients for Low-Carb Chili without Beans
There are only a few ingredients needed for this chili. The slow cooker and the perfect spices work the magic to turn plain ground beef into a bowl of comfort. Besides a blend of spices, tomato sauce, diced tomatoes, ground beef, and bacon are needed for this high-fat & low-carb chili recipe.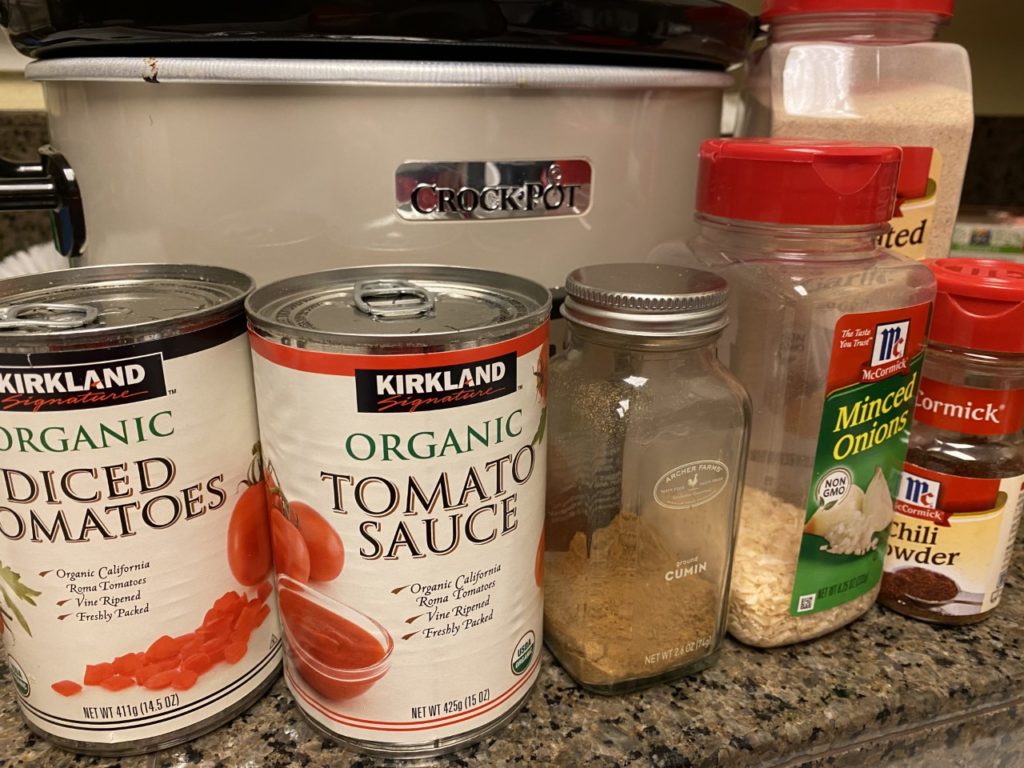 Keto Chili Seasoning
To keep away from grains or other unnecessary ingredients that are in premade seasoning packets, make your own. This is ideal for the low-carb diet when you want to know all the ingredients going into your meal. This homemade seasoning blend includes chili powder, garlic powder, cumin, minced onion, salt, & pepper.
How to Make CrockPot Beef Chili Without Beans
I love my Crock-Pot for many quick recipes but the #1 reason I use the slow cooker, is to make meats tender and infuse flavor slowly into them. Chili is just the sort of thing that begs for the meat to infuse with the other ingredients and there is no better way than to slow-cook it for hours in a variety of spices. Cooking low-carb chili in the crockpot is so basic and the most flavorful recipe by far.
Step-by-Step Instructions
Crumble and brown the ground beef in a skillet over medium heat. Once browned, DO NOT DRAIN! You want fat, aka flavor. Plus if you are on a keto diet, you really want that fat.
Add the ground beef and fat to the insert of your slow cooker. Next, add the spices and minced dry onion.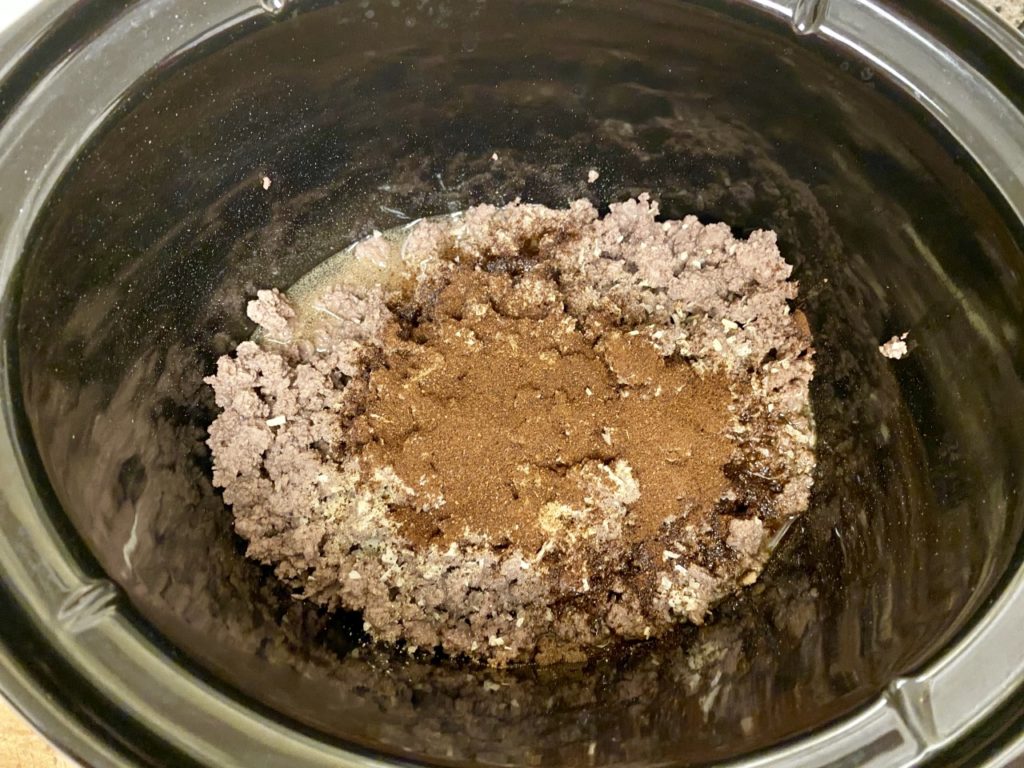 Add the tomato sauce and diced tomatoes. Stir to combine evenly.
How Long to Cook Chili in the CrockPot
Close the lid and set the timer to 6 hours on LOW. The meat is already cooked so you wonder why so long. This step is all about infusing the spices into the meat and keeping it tender and juicy in the acidic tomatoes.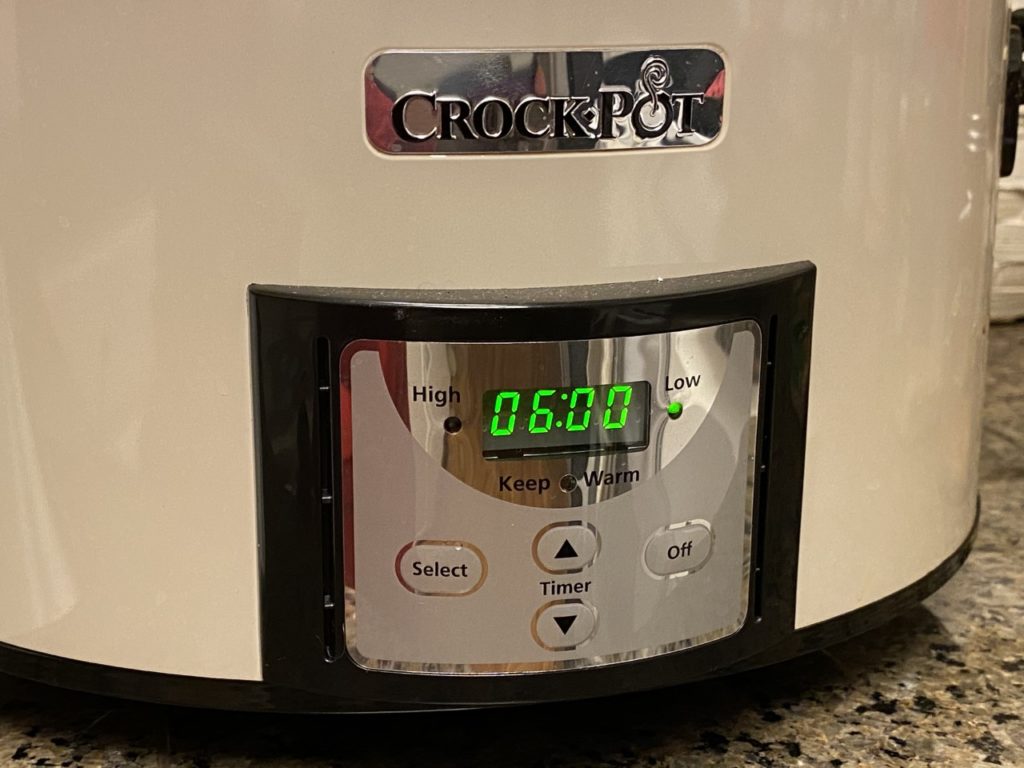 Now for the BACON!!!
I bake my bacon in the oven. I have done this since my first job at a burger place where large baking sheets of bacon were baked up every morning. To this day a bacon cheeseburger is one of my favorite foods. Ok, back to the bacon - crisp it up as you like. We like our bacon extra crispy. Then crumble.
How to Serve Keto Chili
Once the Beef and Bacon Chili is ready - spoon it into bowls and bring out all the toppings you want, including the bacon.  Stir the bacon into the chili.  The reason I do not suggest adding the bacon any sooner is that the crispy bacon will now soften and not have the same texture we love with bacon.  The crispiness of the bacon balances the velvety meat and the soupy tomato base.
Next, add any of the toppings I listed above or your own favorites. On this night I had shredded sharp cheddar cheese, sour cream, and avocado. I usually love cilantro too but just didn't have it tonight.
How Many Carbs in Chili
Each recipe or premade chili you buy at the store will have a different carb, fat, and protein count. This recipe keeps macros that are important for a keto diet. A full detailed list of nutritional information is shared in the recipe card below.
However for a snapshot of the carb count in this homemade chili without beans, here is the main breakdown. For ⅙ of this recipe, if you use ground beef that is 80/20 there will be 6 net carbs per large bowl. It packs almost 16g of fat but top with some avocado and cheese to add to that count.
PIN FOR SAFEKEEPING & SHARING!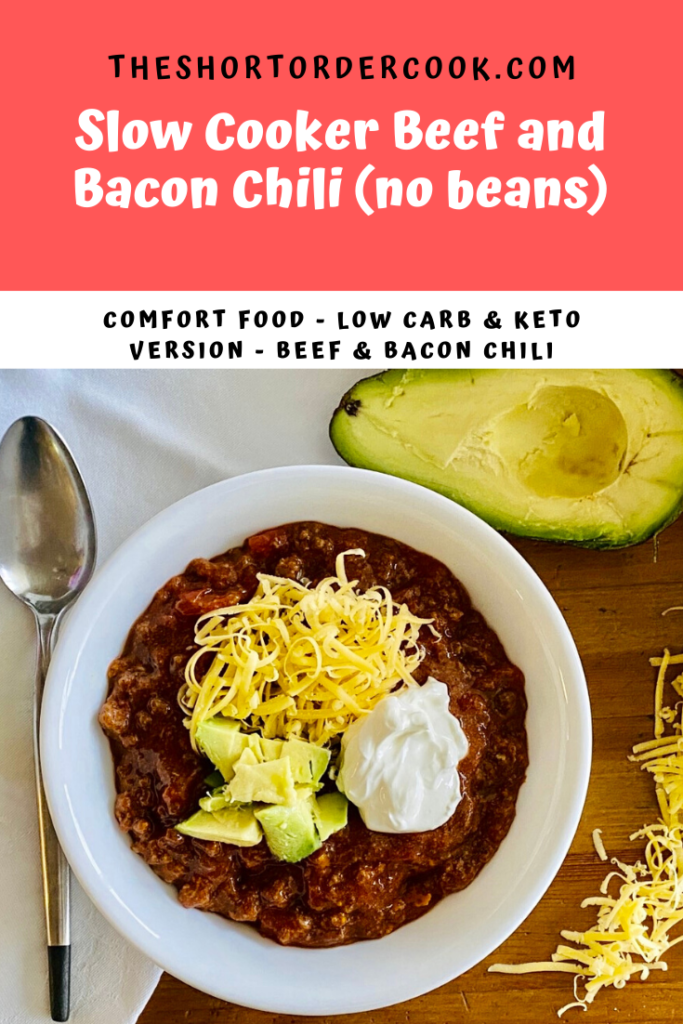 Product Recommendations for this Recipe:
The Short Order Cook is a participant in the Amazon Services LLC Associates Program. As an Amazon Associate, I earn from qualifying purchases. If you click on a link and make a purchase, I may earn a small commission on the sale at no additional cost to you. This helps with the costs of running the blog. Thank you!
Slow Cooker No-Bean Chili (keto)
Velvety slow-cooked beef is simmered in spices and finished with crispy bacon for the ultimate keto comfort food. This recipe without beans is so easy and cooks in the CrockPot.
Ingredients
1.5

pounds

ground beef

(or other meats, see above comments)

6

slices

bacon

15

ounces

can diced tomatoes

15

ounces

can tomato sauce

3

TB

chili powder

1

TB

minced dry onion

2

teaspoon

ground cumin

1.5

teaspoon

salt

1

teaspoon

black pepper

½

teaspoon

cayenne pepper

Optional - for added heat
Instructions
Crumble meat into a large skillet and saute on medium until meat is browned and cooked all the way through.

DO NOT drain the fat. Transfer meat to the insert in your slow cooker.

Add both canned tomato products and remaining ingredients – not the bacon- and stir. Close the top and set the timer to 6 hours on LOW.

Bake bacon in a single layer on a baking sheet in the oven at 425°. Cook until desired crispness, we like it super crispy which takes about 20-25 minutes.

Drain bacon on a paper towel-lined plate. Once cool, crumble into bite-sized pieces.

Once the chili is done, spoon into serving bowls and stir in bacon. Top with desired toppings. See above for a great list of chili topping options.
Notes
As made directed above with ground beef 80/20 blend.  
Nutrition Facts
Servings: 6
Amount per serving
 
Calories
357
% Daily Value*
Total Fat 15.9g
20%
Saturated Fat 5.4g
27%
Cholesterol 122mg
41%
Sodium 1508mg
66%
Total Carbohydrate 9.3g
3%
Dietary Fiber 3.3g
12%
Total Sugars 5.2g
 
Protein 43.5g
 
Vitamin D 0mcg
0%
Calcium 32mg
2%
Iron 23mg
129%
Potassium 1045mg
22%
Did you make this The Short Order Cook Recipe?
Tag @theshortordercookblog (Instagram & Facebook) or @shortorder_cook (Twitter).
I would love to see your latest creations and kitchen adventures.