For the ultimate list of foods that start with I, check out the lists I have compiled here. There are some foods on this list you will recognize but also some you may have never heard of before. But they are all foods or drinks starting with the letter "I". After reviewing this list you will learn more about all sorts of yummy things. So the next time someone asks you what are some foods beginning with "I", you will be able to list off many with no problem. (could come in handy for trivia nights or crossword puzzles?)
I always think of school days when "I" is for ICE CREAM (yum). Yet, there are so many "I" foods to list. This post could never include them all but I have broken them down into several categories for you to find just what you are looking for. Continue reading to find out about common, unique, fruits, vegetables, and drinks, where all the foods begin with the letter "I". By the time you finish reading this list, you will know all about so many foods that start with an I. How many have you tried, and will you try a new one soon?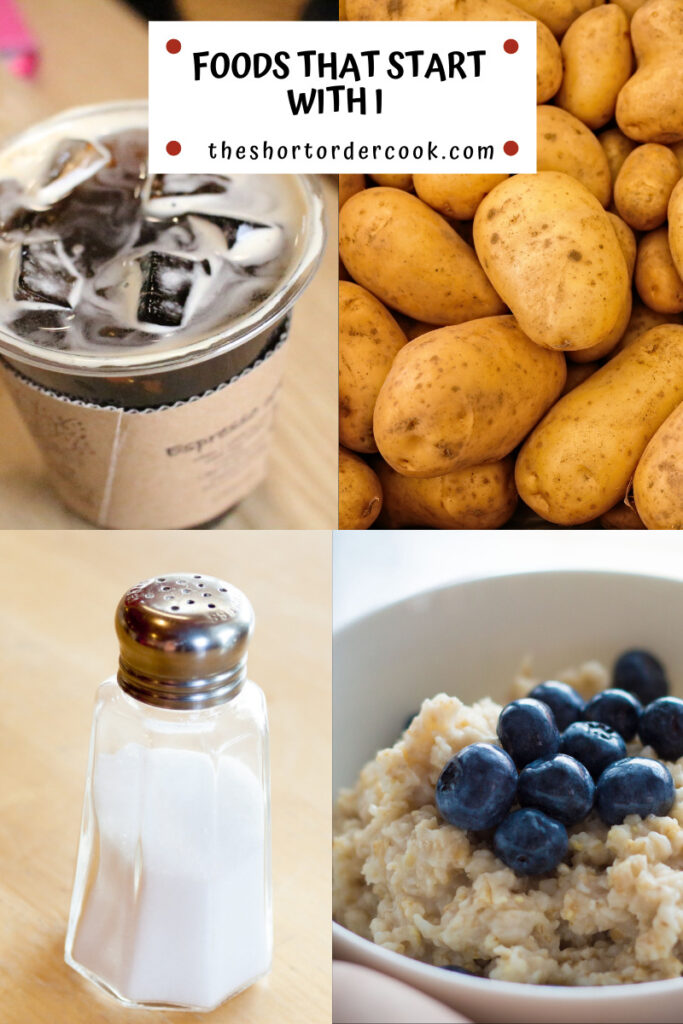 Recipes That Start With I
Common Foods That Start With I
Ice - is frozen water really a "food"? - well I know many people who like to chew on ice, especially the fluffy stuff from Sonic so it counts.
Ice cream - a sweet frozen dessert typically made from cream, milk, eggs, sugar, and other flavorings.
Ice cream cake - a dessert made of both ice cream and cake layered and then frosted.
Icing - a sweet creamy glaze similar to frosting but thinner and glossier used to top or dip cakes, cookies, and other desserts with.
Iodized salt - what to the majority of table salt is which is salt that includes small amounts of

sodium iodide or potassium iodide.

Instant oatmeal - oatmeal that has been preprepared by steaming, flattening, and drying the oats so that it is quicker to cook later.
Instant ramen - noodles that have been precooked and then dried so that for later cooking they are ready to eat much faster than from the original state.
Unique Foods That Start With I
Idli - a savory Indian steamed rice cake that also includes fermented lentils and is often eaten at breakfast.
Ice milk - similar to ice cream in that it is a sweetened dairy dessert but only has 10% milk fat.
Indian fry bread - a sweetened wheat flat dough that is deep-fried that can be enjoyed on its own or enjoyed with honey or jam.
Irish soda bread - a

 quick bread that is made without yeast and instead, all of its leavenings come from a combination of baking soda and buttermilk.

Israeli couscous - tiny pasta balls originally from Israel that it is also known as pearl couscous.
Italian ice - a frozen sweetened treat made with fruit or other flavorings that is similar to sorbet or sherbet but it does not contain any dairy or eggs.
Fruits & Vegetables That Start With I
Icaco - a shrub fruit that is similar to a plum in taste, also called coco-plums.
Idaho Potatoes - the most common state in the USA to grow/harvest potatoes.
Illawarra plum - an Australian fruit similar to blueberries
Iceberg lettuce - cabbage-shaped leafy green that is used mainly in salads such as the wedge salad.
Drinks that Start With I
Iced coffee -  a coffee drink that can be made by brewing coffee in the normal way and or using cold brew and then served cold over ice with or without sweeteners, creamers, or other flavorings.
Iced tea - a cold drink typically served in a glass with ice and made from a cold brew from tea leaves. and may or may not be sweetened.
Inca Cola - a soft drink beverage company that started in Peru.
Irish coffee - a cocktail of hot coffee, Irish whiskey, and sugar that is topped with cream.
Irish cream - a cream-based liqueur made from Irish whiskey, cream, and other flavors.
PIN FOR SAFEKEEPING & SHARING!
Product Recommendations for this Article:
The Short Order Cook is a participant in the Amazon Services LLC Associates Program.  As an Amazon Associate, I earn from qualifying purchases.  If you click on a link and make a purchase, I may earn a small commission on the sale at no additional cost to you. This helps with the costs of running the blog. Thank you!