Looking for a fancy and bubbly drink? Try the pomegranate mimosa - a fruity blend of a classic brunch drink made with Prosecco or Champagne. Sipping on a pomegranate mimosa is a tantalizing dance between the sweet and tart flavors that will leave you wanting more.
This amazing cocktail is both pretty and delicious, guaranteed to put a smile on your face with every sip. This was inspired by my Christmas Mimosa Recipe and is a cheerful way to start your day. Or serve it at Halloween for a bloody good drink with my Candy Corn Martini.
Both mimosas are a gorgeous red color, fruit-flavored, & perfect for special occasions and holidays. Serve this pomegranate & grapefruit mimosa for brunch, Mother's Day, Valentine's Day, New Year's Day, wedding or baby showers, birthdays, anniversaries, & girl trips.
Jump to:
Why this Mimosa Recipe is so Good
Tired of plain orange juice mimosas? This pomegranate mimosa recipe says "I'm classy, but a little bit wild." Here is what you will love about this simple recipe for a pomegranate mimosa.
It's bubbly & refreshing.
The sweet & tart balance is a delight.
Only 3 ingredients for the perfect sipping cocktail.
It's so darn pretty & pink!
I have included a mocktail version so if you want a zero-proof mimosa, check out that section below too.
Ingredients for Pomegranate Mimosa
This mimosa recipe with pomegranate & grapefruit juice is only 3 ingredients. It's fresh, sparkling, & delightful. It begins by using your favorite bottle of Prosecco (or Champagne).
Here is what you need to make the best fruity mimosa.
Prosecco - a sparkling white wine from Italy. It's similar to Champagne but doesn't come from the Champagne region.
Grapefruit Juice - the fruit juice adds to the tartness.
Pomegranate Juice - the sweet-tart ruby red juice that makes this recipe extraordinary.
Pomegranate Seeds - optional garnish.
See the recipe card for quantities. See the Mimosa Mocktail section for using the soda instead.
How to Make a Pomegranate Mimosa
Begin by grabbing your favorite Champagne glasses or stemless flutes. They are the ideal glassware to use when pouring mimosas.
Follow these 3 easy steps for making this recipe for pomegranate mimosa:
Carefully open the bottle of Prosecco (or Champagne)
Fill each glass ¾ of the way with Prosecco
Next, add a splash of pomegranate & grapefruit juices so the glass is now 90% filled. I like equal parts of each but you can play with it to get it to your preferred taste. (do not stir)
TIP: always pour the Prosecco in before other ingredients when making mimosas. Adding sparkling wine to juice tends to cause it to bubble up and can be messy.
Garnish with optional pomegranate seeds and/or fresh mint sprigs. Enjoy!
Hint: Pour & serve this drink when it is ready to be enjoyed immediately. Like all cocktails with sparkling wine or Champagne, they are best sipped while they are bubbly, fizzy, & effervescent.
Substitutions
We may all have our own special way to order or pour a cocktail. That may be the case with a mimosa so here is how you can personalize this recipe to make it just how you like it.
Prosecco - instead of Prosecco, use your favorite bottle of Champagne or Cava (from Spain).
Pomegranate - use only pomegranate for an extra tart version.
Grapefruit Juice - use orange juice instead for a classic mimosa vibe.
Garnish - add pomegranate seeds to float like little ruby pearls on top as a garnish.
Minty - add a sprig of mint to the glass for a cool flavor & color.
Mimosa Mocktail (Non-Alcoholic)
This recipe can be made non-alcoholic easily. With just one ingredient substitution you can still have a glass of bubbly that is alcohol-free. This mocktail pomegranate mimosa is great for kids, teens, expectant mothers, or anyone wanting a zero-proof recipe.
Non-Alcoholic - instead of Prosecco or Champagne, use lemon-lime soda.
Kid-friendly - use soda instead, serve in plastic champagne flutes, & add a maraschino cherry.
The carbonation in lemon-lime soda can easily replace the bubbly in this recipe. Use your favorite brand; 7-Up, Sprite, or Sierra Mist all work.
Top Tips
Use a bottle of Prosecco or Champagne that you love to drink but isn't too fancy or high-priced.
Pour & serve immediately so the mimosas won't lose that bubbly effervescent vibe. Do not make mimosas ahead of time or they will become flat.
Swap out Prosecco for Sprite or 7-U for a mocktail.
Best Glasses for Mimosas
Here are some fun glasses & other items that help make mimosas more fun & celebratory. I have included both stemless & classic flutes that are the best to buy with top ratings & reviews. Also plastic champagne flutes for parties, poolside, or for kids to use. Cheers!
The Short Order Cook participates in the Amazon Services LLC Associates Program. As an Amazon Associate, I earn from qualifying purchases. If you click on a link and make a purchase, I may earn a small commission on the sale at no additional cost to you. This helps with the costs of running the blog. Thank you!
FAQ
What are the best glasses for mimosas?
I recommend using Champagne flutes or stemless glasses when making a mimosa. The best size is one that will hold 10-12 ounces. You can also use highball glasses or white wine glasses as a substitute for flutes.
What is the difference between Prosecco & Champagne?
Both of them are a variety of sparkling white wines. The main difference is the region in which the grapes are grown. Only grapes grown in the Champagne region of France can be called "Champagne". Prosecco mainly comes from the Veneto region of Italy.
Does Prosecco taste different than Champagne?
Like all wines, these sparkling white wines will have different tasting notes, flavors, & scents. Prosecco is often more fresh, crispy, bright, & often described as sweeter. Champagne tends to be more fruity, deep, and complex.
What is the difference between a mimosa & a bellini?
In a mimosa, the bubbly is topped off with fruit juices, like orange or grapefruit. However, a bellini is Champagne topped off with a puree like peach or strawberry.
How many mimosas will one bottle make?
For a typical bottle of Prosecco or Champagne (750ml), you can yield 6-8 glasses of mimosa. People typically drink 2 glasses.
What to Serve with Mimosas?
Looking for other recipes that go well with a mimosa? These ideas are my recommendations for what to serve with mimosas for appetizers, breakfast, brunch, or lunch. Cheers!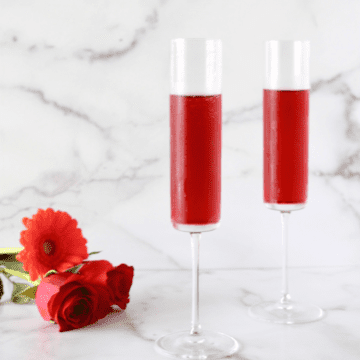 Pomegranate Mimosa
Bubbly Prosecco & sweet pomegranate juice make for a refreshing & sophisticated twist on the classic mimosa. This easy recipe is pretty & fun. The combination of grapefruit & pomegranate is tart, sweet, fruity, & delicious. Tips for using Champagne or a mocktail with lemon-lime soda. Only 3 ingredients for this mimosa recipe - great for Mother's Day, New Year's Day, Christmas, parties, birthdays, brunch, showers, or anniversaries.
Ingredients
1

bottle

Prosecco

or Champagne

8

ounces

pomegranate juice

8

ounces

grapefruit juice

¼

cup

pomegranate seeds

optional

3

cans

lemon-lime soda

optional for Mocktail/alcohol-free version
Instructions
Fill each champagne glass about ¾ the way up with champagne or prosecco.

Top with pomegranate juice, so that the glass is now almost 90% full. Finally, add a splash of grapefruit juice.

To garnish - Top with a teaspoon of pomegranate seeds. They will sink a bit and then ride the bubbles back up to float at the top.

Enjoy it immediately while it is fizzy & fresh.
Notes
SERVING INFORMATION - This recipe will yield 6-8 mimosas, depending on the size of your Prosecco bottle & how much juice to the bubbly ratio you & your guests prefer.  A 750ml bottle will yield 6-8 glasses. Guests typically drink 2 glasses during a meal or event; therefore, this recipe is good for 3-4 people.