All the best party foods for your Halloween party or holiday include these fun appetizers and finger foods ideas. If you want to serve good food for Halloween that is also festive including fun colors and characters like ghosts, mummies, and witches, check these out. So get in your costumes and get ready to have a frightfully ghoulish Halloween party.
These recipes include many spooky, creepy, cute, & fun ideas. There is something for every appetite or dietary need. Choose from a variety of healthy, nut-free, dairy-free, keto, gluten-free, low-cal, low-carb, diabetic, and vegan Halloween recipes. There are even easy make-ahead recipes including savory appetizers and sweet dessert finger foods.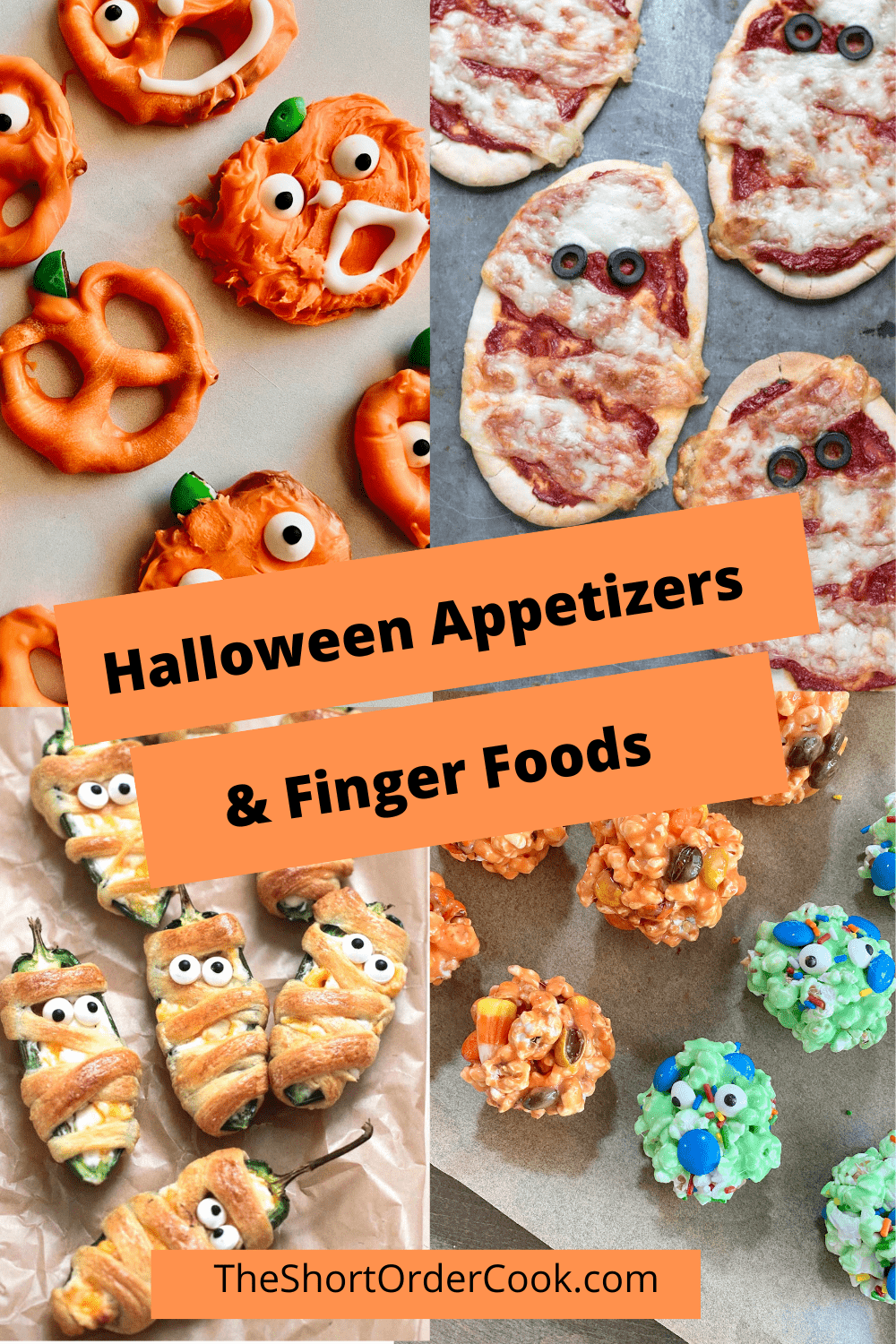 To help make your costume party and Halloween as tasty and festive as can be, you have to make some of these. Try a few easy no-bake recipes along with something a bit more gourmet that may need more time. This will balance out the work it takes to celebrate the scary occasion. Get your family and friends involved too. They can have fun baking, cooking, and enjoying the holiday.
Jump to:
Sweet & Savory Halloween Finger Foods
Here are the holiday recipes that will make your Halloween tasty & fun. These are my favorite sweet & savory small bites. Perfect for the dessert bar at your party or event. Add these along with other great Halloween dessert recipes for the best goodies & sweet bar at your party or event.
Savory Halloween Appetizers
When you need a break from all the sweets that come with the Halloween holiday, here are some great savory recipes. They are perfect for a cocktail party or potluck at work or school. Make up a few of these for your party or bring the share to wherever the haunts take you.
Mummy Jalapeno Poppers
Wrap these spicy jalapenos up with crescent dough for the tastiest mummies around. They are spicy and scary good.
Mummy Jalapeno Poppers
Halloween Mummy Dogs
4 ingredients makes for a hot dog treat almost too fun to eat. Better than pigs in a blanket - these dogs in a mummy wrap are perfect for Halloween.
Halloween Mummy Dogs
Halloween Deviled Eggs
For something colorful, keto, low-carb, & tasty, try these Halloween deviled eggs. There are 4 different ways to decorate these yummy snacks including spooky spiders, eerie eyeballs, and more.
Halloween Deviled Eggs
Mummy Halloween PIzza
Another cute and tasty mummy-inspired Halloween recipe. These cheesy & creepy naan pizzas will be the hit of your holiday.
Mummy Halloween PIzza
Spider Peanut Butter & Jelly Sandwiches
These silly & spooky spider PB&J sandwiches will crawl right off the plate. There is no way kids will resist these - and some adults too.
Spider Peanut Butter & Jelly Sandwiches
Halloween Chips, Dips, & Spreads
Make a dip or two and add your favorite fruits, veggies, and crackers for a no-fail appetizer. No matter how you dig into these, your guests will be going back for more.
Pumpkin Cream Cheese Dip
Creamy and savory dips are always a must at parties. Halloween costume parties sure need this pumpkin cream cheese dip at the table. Serve with crackers and fruit for an undeniable delight.
Pumpkin Cream Cheese Dip
Pepperoni Skull Cheeseball
Don't be scared of this pepperoni cheeseball shaped like a skull. It is too tasty to pass up with spicy pepperoni & a blend of Italian cheeses. The olive eyes and almond teeth may make this perfect for Halloween.
Pepperoni Skull Cheeseball
Halloween Tortilla Chips
A stack of tortillas and your favorite Halloween cookie cutters makes for the cutest chips ever. Cut out ghosts, bats, pumpkins, and more to make these tortilla chips.
Halloween Tortilla Chips
Party Food Ideas
Here are some other party food ideas to make it the best event of Fall. Making a sweet and savory Easy Halloween Charcuterie Board is the ultimate. Also, create a fun and spooky atmosphere with some eerie decorations like these darling plastic pineapple Jack-o-Lanterns.
Halloween Appetizers & Finger Foods
All the best recipes for a great party are when you serve these Halloween appetizers and finger foods. There are sweet and savory ideas including dips, spreads, pizza, hot dogs, & more. So if you want something spooky, scary, or cute try some recipes in the shape of mummies, bats, spiders, pumpkins, and more. Including low-carb, vegetarian, gluten-free, recipes too.
Ingredients
Pumpkin Pretzels

Mummy Hot Dogs

Spider Cookies

Mummy Jalapeno Poppers

Skull Cheeseball

Halloween Tortilla Chips

Mummy Pizza

Pumpkin Dip

Popcorn Balls

Honey Roasted Pumpkin Seeds
Instructions
Choose 2-3 recipes for your party.