Whether you have canned or leftover baked beans, here are some of the best recipes to make with them. No more boring and plain baked pork and beans after you try these delicious ideas. So make enough baked beans for the whole family to enjoy in a new way. The saucy white beans are baked like the original English method or steamed like most canned varieties these days. Either way, they are a popular staple.
All of these recipes are easy to make and will become a family favorite. Try any one or more of these for your meal planning and discover something new for your rotation. There are gluten-free, vegan, vegetarian, low-calorie, and kid-approved recipes to make with baked beans. They are packed with potassium, iron, and magnesium so enjoy a big helping.
Wondering what can be made from baked beans, well wonder no more. These are some great recipes besides simple beans on toast. They are more than a side dish so enjoy them as part of the main course for lunch or dinner. Or even in a full proper English breakfast.
Jump to:
Side Dish Recipes Using Baked Beans
Besides serving beans straight from the can, jazz them up. All these recipes turn baked beans into a fantastic side dish. Enjoy them in a whole new way and wonder why you never tried this before. These are the best recipes for using canned or leftover baked beans in another side dish.
LOADED SKILLET FRENCH FRIES - Ok, I admit this is the recipe that excites me the most. There is something about loaded fries that I cannot resist. This one has baked beans, jalapenos, and, of course, lots of cheese! Gooey and good.
BAKED BEAN SALAD - Yes, canned baked beans can make a yummy salad. Bean salads are amazing and often healthier than mayo-based salads. Try this salad that is served cold with tomatoes, onions, and more.
DRESSED-UP CANNED BEANS - Jazz up the canned baked beans with this easy recipe. Peppers, onions, and spices take this pantry staple to the next level.
SWEET & SPICY BEANS & RICE - This cheesy casserole side dish is almost a meal in itself. Serve as a side dish or even roll up in tortillas like a burrito.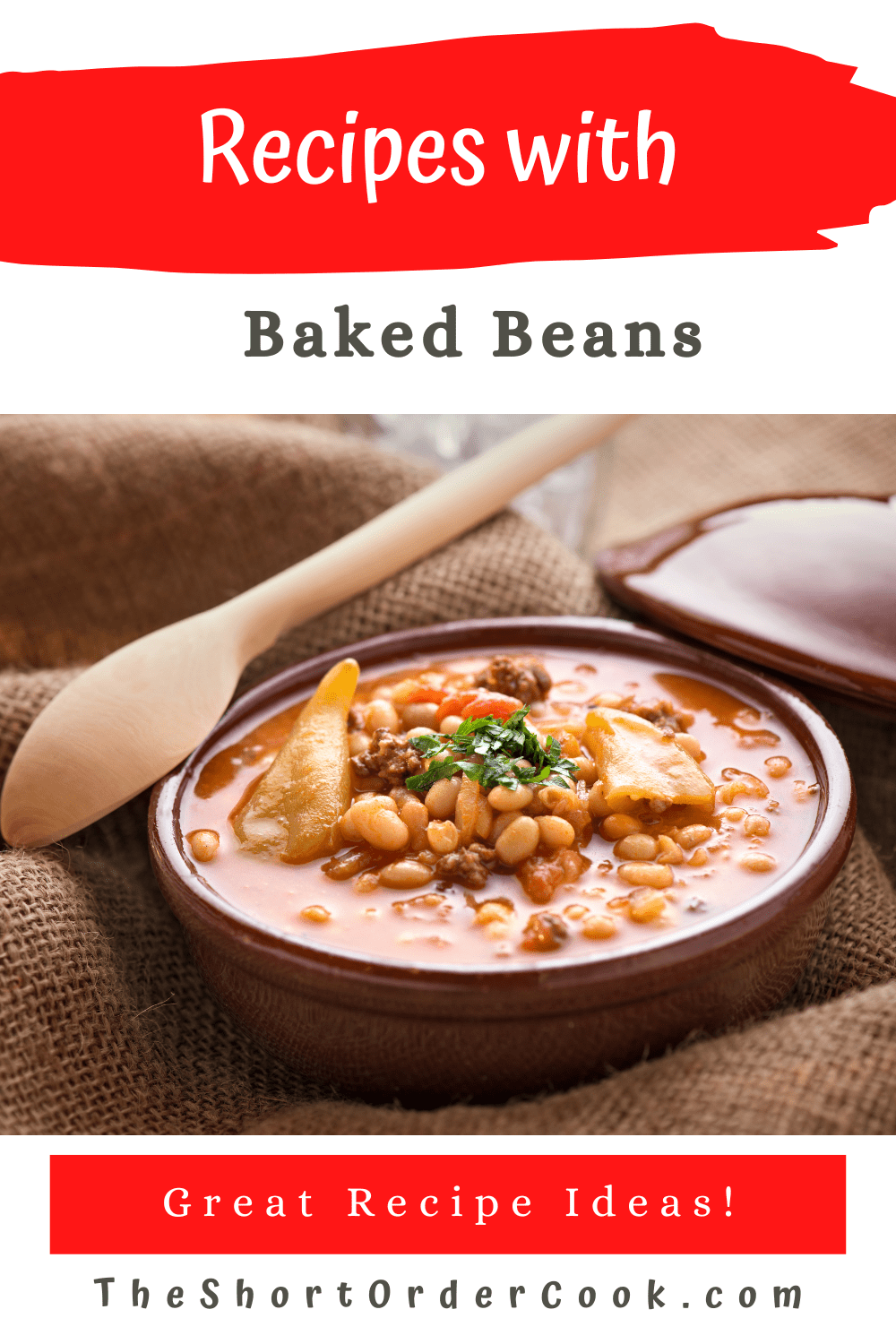 Main Dishes Using Baked Beans
Serve up some baked beans as part of the full recipe for a hearty dinner. It is an ingredient that can make yummy breakfasts, lunches, casseroles, and more. One of my favorite easy recipes is to top a toaster oven baked potato with some leftover baked beans, chopped onions, and shredded cheese.
BEEFY BAKED BEAN NACHOS - A great game day recipe if you ask me. Instead of refried or whole beans, try this new take on nachos. Pop a few beers and get the game on TV to enjoy a platter of these with your best friends.
STUFFED BELL PEPPERS - If you love this classic recipe, try it with baked beans. It has a Mexican twist that is spicy, hearty, & vegetarian (if using baked beans without meat).
SLOPPY JOES WITH BAKED BEANS - This slow cooker recipe will be a kid's favorite. These saucy sandwiches add canned baked beans for an extra hearty recipe.
BAKED BEAN & CHICKEN ENCHILADAS - Another recipe where a Mexican bean is swapped out with good old-fashioned baked beans.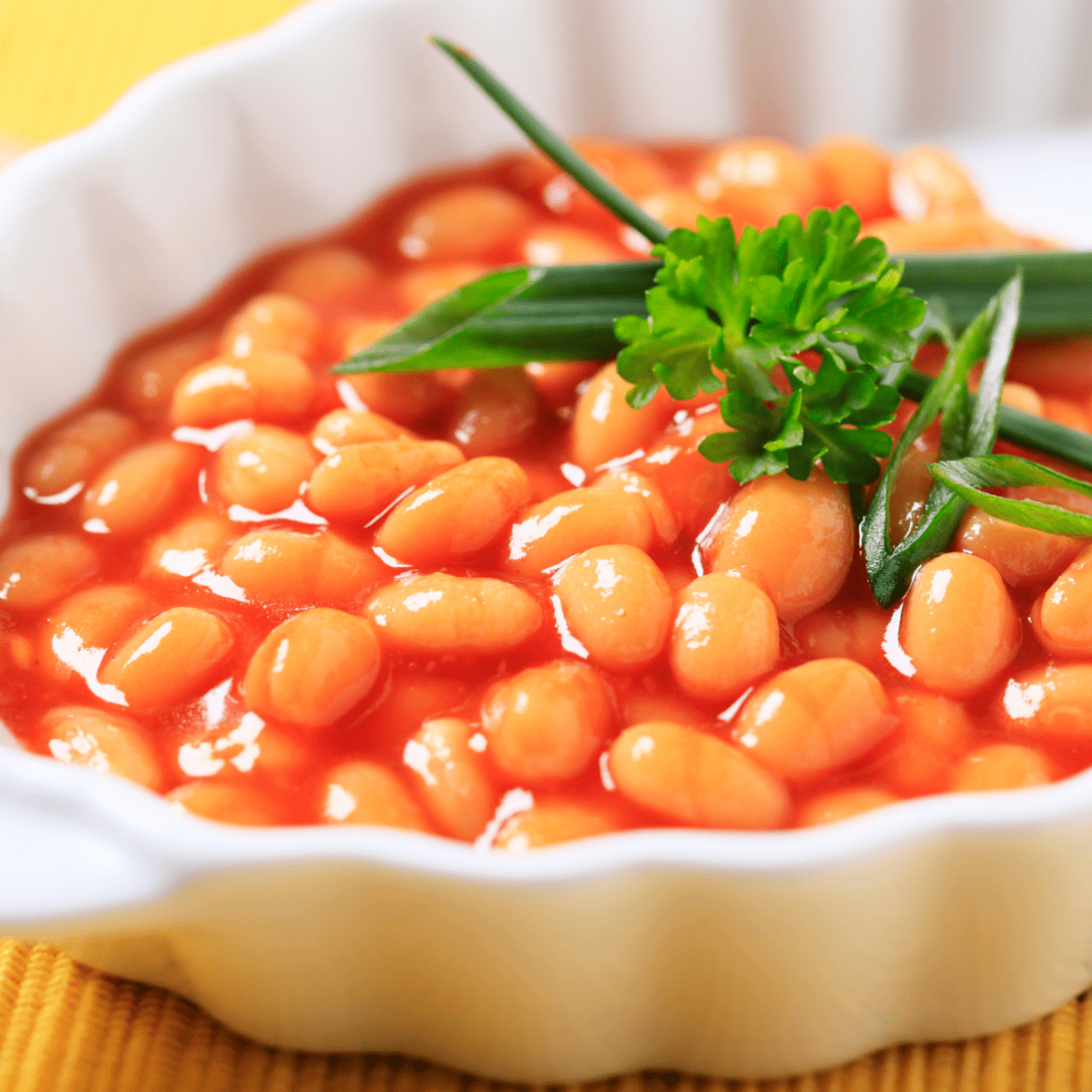 Recipes to Serve with Baked Beans
Meats are one of the most common things to serve with baked beans. Think summer cookouts with BBQ ribs, burgers, or chicken and you often think of a side of baked beans. Those are some delicious pairings but there is more to enjoy.
The next time you serve baked beans, try one of these recipes that go well with them. These are my favorite recipes to eat with baked beans.
Sides to Serve with Baked Beans
Now that you have some baked beans and a main course idea from the section above, your meal is almost ready. One more amazing side dish and dinner are done. Here are some great recipe ideas that make great sides that go well with baked beans.
FAQ
Got baked beans questions? Well, we got answers? Enjoy them any time of day and any season.
What can I add to canned baked beans?
A variety of herbs, aromatics, and spices can be added to canned baked beans to add more flavor. For instance, add crushed garlic & fresh parsley. Or add condiments like a swirl of dijon mustard and a bit of hot honey for a sweet, spicy, & tangy recipe.

I have been to a few tailgate parties where some beer & diced sausages have been added. For another simple way to jazz up canned baked beans, add some brown sugar, yellow mustard, & dried minced onions. Add Dr. Pepper or Coca-Cola to your baked beans.
What to do with leftover baked beans?
Leftover baked beans can be used in any of the recipes shared in the above sections. They are great in casseroles, to top fries or baked potatoes, or add cut-up sausage or pulled pork for a yummy dinner.
Are baked beans high in iron?
If you want to eat less meat or get your iron from a plant-based protein, beans are a great choice. Baked beans included, are high in iron. A typical 100g or 1 cup serving of canned baked beans has 11% of your daily required amount of iron.
Recipes with Baked Beans
the best recipes to make with canned or leftover baked beans. Make them into something new for dinner. Great side and dinner recipes including casseroles, salads, hearty, and gluten-free dishes. Including ideas on what to serve with baked beans for a complete meal.
Ingredients
Baked Bean Sloppy Joes

Skillet Loaded Fries

Smoked Ribs

Pulled Pork

Cornbread Casserole

Baked Bean Nachos

Baked Bean Topped Potatoes

Baked Bean Salad
Instructions
Make your main course or side dish

Make one of these new recipes that use canned baked beans or your favorite leftovers.