If you are trying to figure out what goes well with hamburgers for dinner, this list is exactly what you are looking for. Burgers are a family favorite and a hearty hot sandwich on their own.  We typically find that they only need a simple side to make a complete meal. Therefore, you will want to pick the best easy side dish to go with your favorite cheeseburger recipe. What will you serve with hamburgers tonight?
Whether you want a salad, fruits, vegetables, or potatoes, we have you covered with so many choices on what to enjoy with your next hamburger. These sides are great for backyard barbecues, cookout at the beach, park, or tailgate parties, or even for a weeknight hamburger dinner.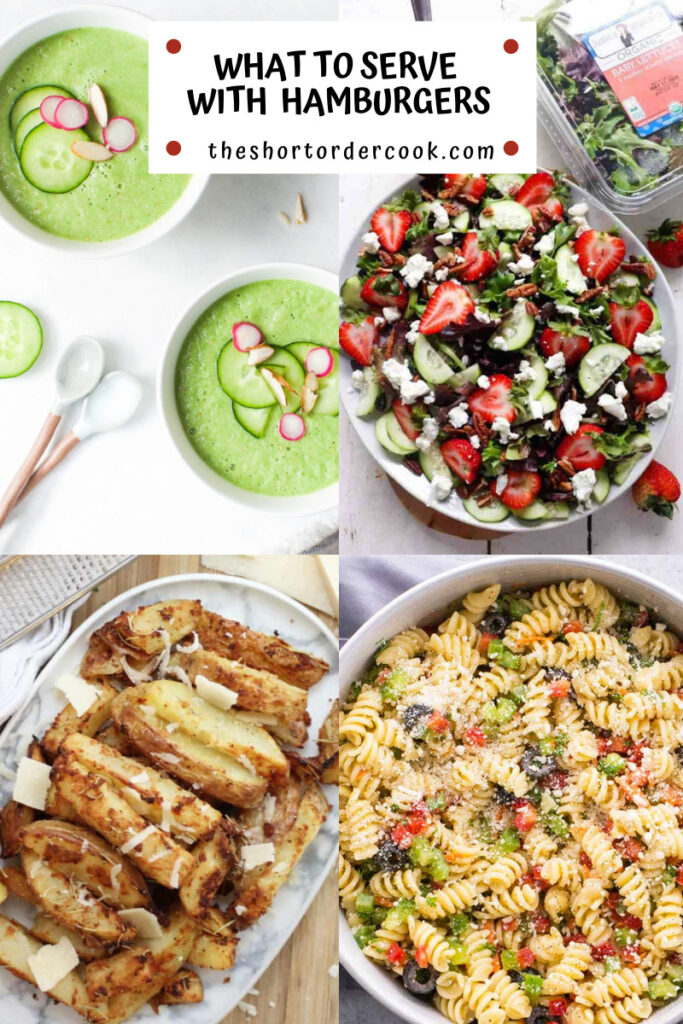 Many fellow food bloggers have shared some of their quick and easy side dish recipes to eat with your favorite burgers.  All of these sides pair well with the ground beef, cheese, and other toppings that make hamburgers a classic American sandwich.  If you ever wondered more about where the burger started, check out the HISTORY OF HAMBURGER.
What to Serve with Hamburgers
This is a tasty list of what to offer with burgers.  To help you decide what to serve with cheeseburgers, I have broken down the list into some subcategories. So based on your mood, preference, or diet, there is something for everyone.  There are healthy salads, mayo-based salads,  low-carb, keto, and vegetable sides.  This list of what to make with hamburgers includes:
The Best Sides by The Short Order Cook
Salad Side Dishes for Hamburgers
Potato Side Dishes for Hamburgers
Keto / Low Carb or Gluten-Free Side Dishes for Hamburgers
If you want to know the best way to grill anything, including hamburgers, you will want to review my post about GRILLING WITH THE LID ON OR OFF - ALL YOU NEED TO KNOW! 
The Best Sides by The Short Order Cook
Bonus:  Cocktails to Serve with Burgers
If you enjoy an alcoholic drinks with your hamburgers, here are some great recipes. They all go well with any type of burger or slider. So when you don't want a soda, milkshake, or beer, make one of these cocktails are what to drink with hamburgers.
Salad Side Dishes for Hamburgers
Potato Side Dishes for Hamburgers
Keto / Low Carb or Gluten-Free Side Dishes for Hamburgers
PIN FOR SAFEKEEPING & SHARING!
Product Recommendations for this Article:
The Short Order Cook is a participant in the Amazon Services LLC Associates Program.  As an Amazon Associate, I earn from qualifying purchases.  If you click on a link and make a purchase, I may earn a small commission on the sale at no additional cost to you. This helps with the costs of running the blog. Thank you!