If you are trying to figure out what goes well with lobster for dinner, this list is exactly what you are looking for. Lobster is an elegant main entree that deserves to be served with either a simple side to showcase the lobster tail or something fancy for a lovely meal. The rich buttery lobster meat pairs well with all sorts of side dishes. These suggested sides work great for all your meal plans, including parties, intimate dinners, or a special occasion dinner.
The best sides to serve with lobster are all right here. Many fellow food bloggers have shared some of their quick and easy side dish recipes to eat with lobster tails or a delicious lobster roll. If you want a salad, baked goods, vegetables, or pasta, we have you covered with so many choices on what to enjoy with seafood. Whether you eat Maine or California lobster, hard or soft shell, spiny, rock, or cold-water lobster – all these side recipes pair well to serve with your meal.
What to Serve with Lobster
This is a tasty list of what sides to eat with lobster. Many of these side dishes are also great to serve with lobster tails, lobster rolls, or any other lobster main dish or sandwich. In reality, all of these sides can be made to eat with any seafood but I highly recommend them all to eat with lobster. There is a variety of side dish options that include low-carb, gluten-free, grain-free, low-calorie, healthy, keto, and dairy-free.
To help you decide what to serve with lobster, I have broken down the list into some subcategories. So based on what you are serving as your main dish lobster recipe, there is something for every meal. This list includes the best of what to make and serve with a whole lobster, lobster tails, and lobster rolls:
Sides by The Short Order Cook
Sides for Lobster & Lobster Tails
Sides for Lobster Rolls
Other Great Side Dishes to Serve with Lobster
Sides by The Short Order Cook
Sides for Lobster & Lobster Tails
Sides for Lobster Rolls
Other Great Side Dishes to Serve with Lobster
More Side Dish Ideas
For additional side recipes that go well with any kind of seafood, check out these other articles. All the amazing recipes are shared by the best food bloggers and include a wide variety of side dish ideas to serve with fish, shellfish, and more.
PIN FOR SAFEKEEPING & SHARING!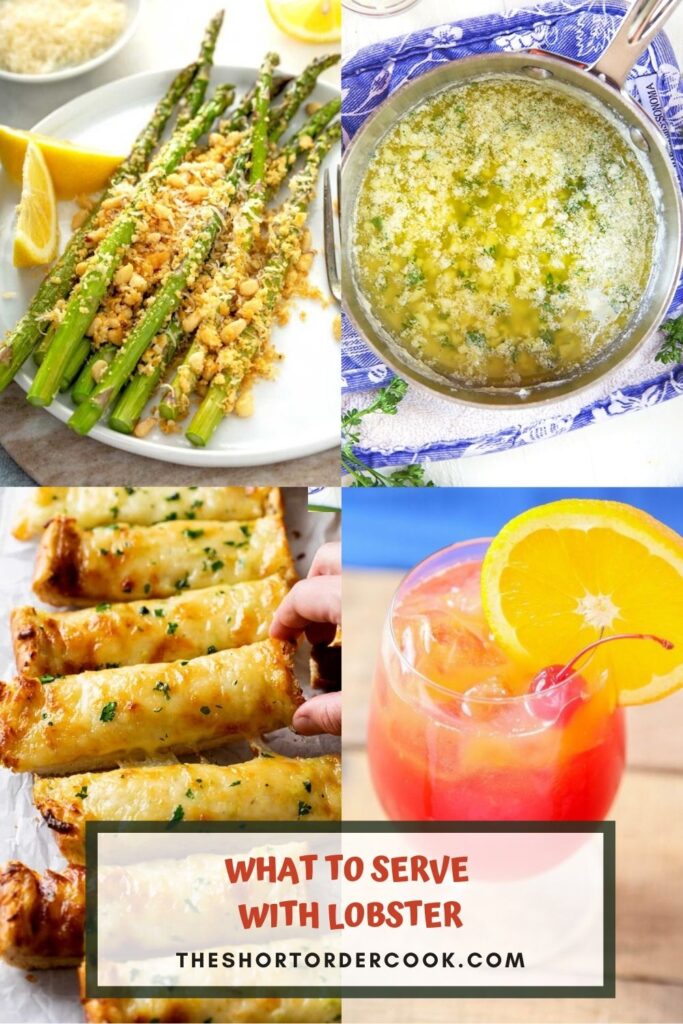 Product Recommendations for this Article:
The Short Order Cook is a participant in the Amazon Services LLC Associates Program. As an Amazon Associate, I earn from qualifying purchases. If you click on a link and make a purchase, I may earn a small commission on the sale at no additional cost to you. This helps with the costs of running the blog. Thank you!