The best recipes to serve with french toast are good any time of day and are comforting family favorites. The recipes and ideas shared here today are all those things and more. Whether you want a protein, fruit, or vegetable all of these go well with french toast. Make one or more to enjoy a full breakfast or brunch.
Step out of your comfort zone and try something new. Breakfast meats and fruit are great with french toast. But there are so many other great things that go well with it. Try an easy baked potato topped with butter & bacon or a crumble some homemade buttery toffee on top with some whipped cream. Sweet or savory, this list has it all and more.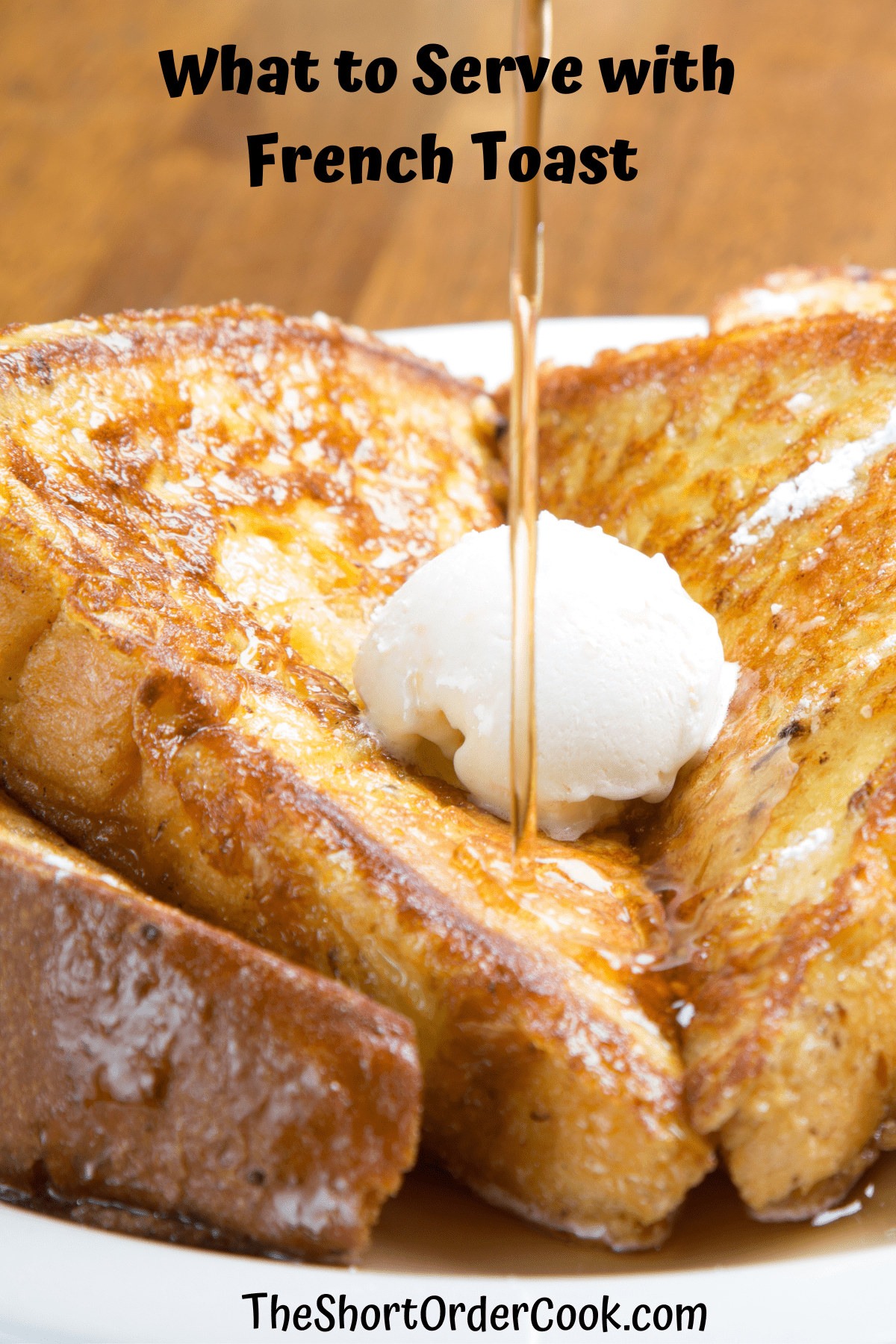 I love making my own has from leftover slow cooker corned beef. Fresh or cooked fruits as a topping with whipped cream is also irresistible. There are recipes for all dietary needs here including low-carb, gluten-free, nut-free, dairy-free, vegan, keto-friendly and more. French toast may not be a traditional french breakfast but in America is sure is a popular breakfast order at restaurants or easy to make at home.
Jump to:
Breakfast Side Dishes Recipes
These are the best breakfast recipes and ideas to serve for breakfast with your homemade french toast. There are sweet & savory ideas all great for the first meal of the day.
Sweet Recipe Ideas
French toast is a breakfast staple that is a delicious part of a complete breakfast. For something sweet that goes well with french toast, try one or more of these recipes or quick side dish ideas. They are great for breakfast & brunch and include vegetables, baked goods, and more.
Other great ideas to serve as a side dish includes just about any kind of fruit. Add fresh berries, sliced bananas, or a tropical fruit salad to your french toast. Grilled pineapple slices mixed with shredded coconut is unreal. Here are some of my favorite fruit or other sweet ideas:
Fruit Salad - dice up your favorites and squeeze on some fresh orange juice to make a lovely side.
Sliced Melon - one or more of melons.
Macerated Berries - sprinkle fresh berries with some sugar and let it macerate for about 15 minutes to bring out the natural juices.
Hot Chocolate - pour yourself a cup of hot chocolate to sip with your french toast.
Savory French Toast Sides
If you are like me and don't have a sweet tooth, you may enjoy savory sides with french toast. Here are some great savory and easy-to-make recipes that pair well with french toast. There are gluten-free, salads, meaty, & vegetarian items. All are great to enjy at breakfast, brunch, lunch, or for supper.
French Toast Toppings
Besides good old butter and syrup, here are great ideas for what to top your french toast with. Here is what to serve with french toast without syrup. Sweet, sticky, spicy, and even crunchy.
For some yummy toppings ideas for homemade french toast, try these delicious ideas.
Fresh & cooked fruits
Chopped & roasted nuts
Nut & seed spreads like Nutella, peanut butter, & sunflower butter
Flavored syrups or sauces
Cinnamon & sugar
French Toast Dinner Ideas
It is a great breakfast or brunch recipe, but around our house, we love french toast for dinner too. These recipes all go well and complement sweet or savory french toast when served for dinner. They are hearty and delicious. Find ideas for potatoes, proteins, cooked vegetables, and more to serve with french toast.
Best Drink Recipes
Here are the best recipes and ideas for what to drink the next time you enjoy french toast. Whether you want something hot like coffee or something cold like a protein-packed smoothie, this list is so yummy. Or if you are like me and want something fancy or alcoholic like a pomegranate mimosa, here are my favorite recipes.
Other great drinks to enjoy include the following:
Latte - brew your favorite coffee and make a flavored latte as a sweet special drink.
Orange Juice - fresh squeezed orange juice is perfect.
Hot tea - steep your favorite, French traditionally drink a lot of black tea.
FAQ
French toast may not be a traditional french breakfast but in America is sure is a popular breakfast order at restaurants or easy to make at home. Here are some reasons why we love it here at our house and the common things I get asked about french toast.
Was french toast invented in France?
Wondering how french french toast really is? Well, it isn't very french at all. French toast was actually believed to be invented in the Roman empire. It was popular in Europe but Americans gave it the name "French Toast" due to the french that made it popular in the USA. In France, it is not called french toast. It is called "pain perdu", lost bread.
What is a typical french breakfast?
A typical breakfast in France is a hot beverage like tea or coffee served along a pastry or bread. Butter and jam on croissants or a baguette is a classic breakfast.
What to Serve with French Toast
The best sides, drinks, & recipes ideas to serve with french toast. Delicious recipe for breakfast, brunch, lunch, or dinner. Including fruits, vegetables, baked goods, meats, beverages, & more that are sweet, savory, & go well with french toast.
Ingredients
Bacon

Air Fryer Hashbrowns

Sausage Balls

Turkey Bacon

Pineapple Smoothie

Corned Beef

Brown Sugar Squash

Broccoli Salad

Blueberry Muffins

French Potato Salad

Peach Arugula Salad

Grilled Chicken

Stewed Pears

French Fries

Steamed Vegetables
Instructions
Make your favorite french toast recipe.

Choose 1 or 2 recipes to make.