Trying to find kid-friendly side dishes that they will love to eat and are healthy for them can be a hard task for parents. Whether you have picky toddlers or teens that are always hungry, cooking for kids appears to be a chore that never ends. With these side dish recipes that are kid-approved, feel confident that they will be ready to eat and enjoy something they love or find a new favorite
All of these recipes are loved by my kids (and adults too!). They are served frequently and make a regular rotation in our meal planning. There is a variety of sides to cover different tastes and dietary needs such as low-carb, gluten-free, dairy-free, nut-free, and vegetarian or vegan. Try one or more of these and let the kids vote for their favorites.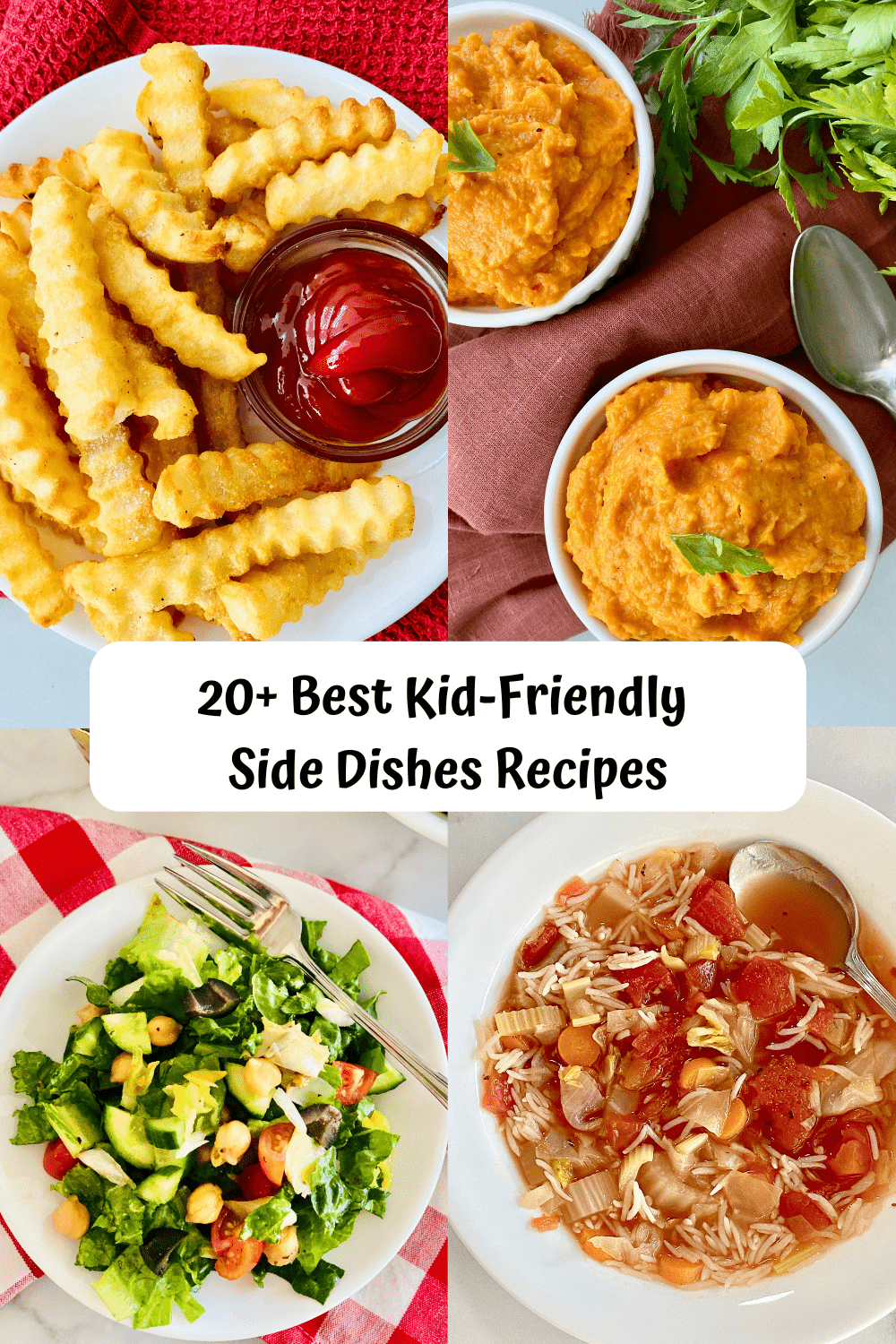 These side dishes go great with kid favorites like burgers, hot dogs, chicken nuggets or tenders, spaghetti, sandwiches, or pizza. Some are simple enough to make with your young kids or more advanced to get the teens cooking something new. All these kid-approved sides are easy recipes that they can help make when they are old enough. There is nothing like getting kids in the kitchen to make memories & to get them motivated to try new things & eat healthier. These are a few of the benefits of cooking with your kids.
You will find quick and easy recipes for your air fryer, Instant Pot, and toaster oven too. Whether you want a kid-friendly gluten-free, vegan, keto, or vegetarian side dish, these recipes fit the dietary needs of kids of all ages. Whether you want something for toddlers, like homemade apple sauce, or something hearty like toaster oven baked potatoes for your tween - every kid will find a new food to enjoy.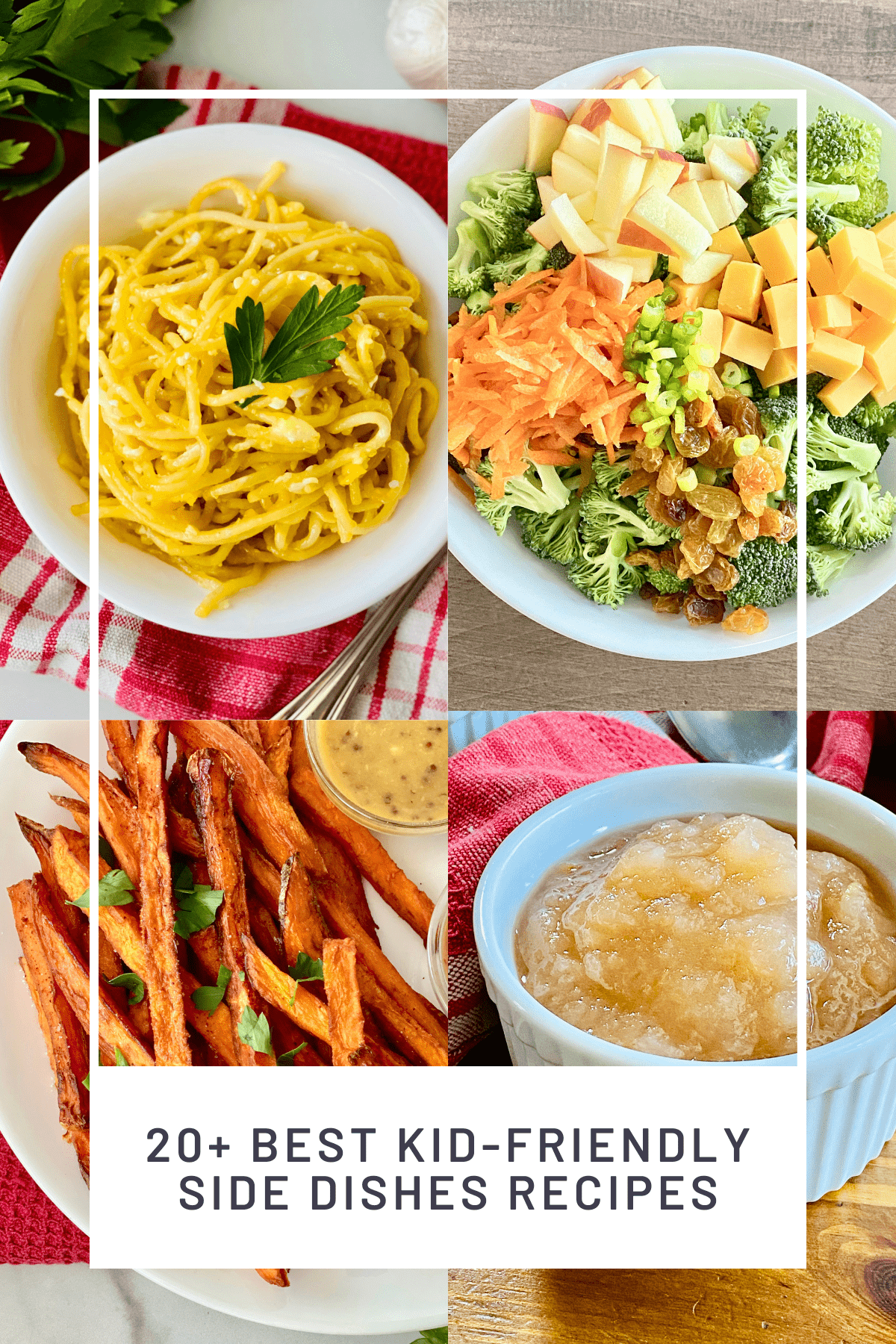 Jump to:
I have broken does these side dish ideas into several categories. So whether you want potatoes, grains, vegetables, healthy, gluten-free, or vegan, all these kid-friendly side dishes are easy to make. Some of these recipes fit into multiple categories so I placed them in what seemed the most relevant first.
Try one or two and have a new favorite that your kids will ask you to make all the time. Meal planning and dinner with your kids just got a whole lot easier and tastier. So get a few of them on your meal planning calendar and make dinner more enjoyable.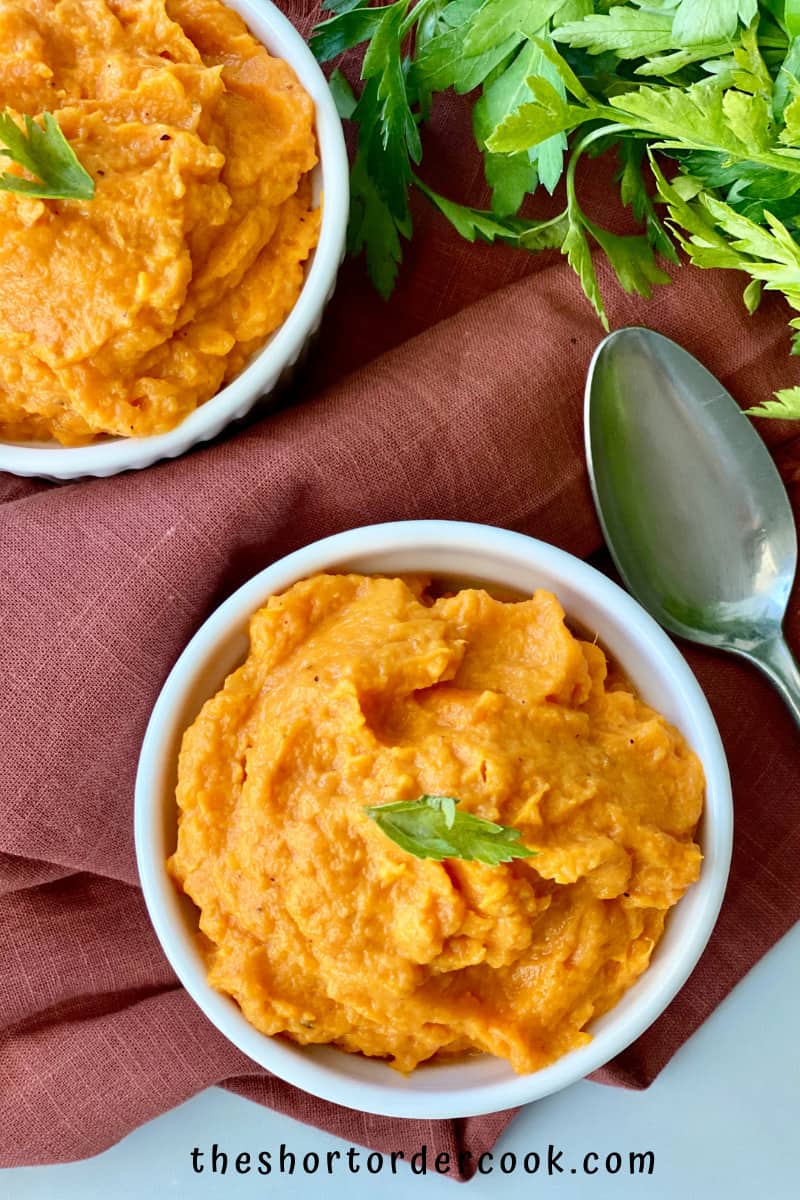 Potato, Pasta, & Rice Side Dishes
Here are some great recipes for serving as a side dish. They include high carbohydrate choices like potatoes, pasta, or rice. One of our favorites is rich, creamy, and fluffy Whipped Sweet Potatoes.
Vegetable Side Dishes
In this section, you will find healthy vegetable side dish recipes. These simple, flavorful, and often vegan recipes are great sides to serve kids. A few even work as finger foods and a few are fancy enough to entice the foodie teenager in your household.
Healthy/Low-Carb Side Dishes
For healthier sides that are also low-carb, try one of these kid-friendly sides. The apple sauce has been a favorite since my kids were toddlers. They now love salads of all kinds and the vegan chopped salad is their favorite to help make and gobble up. It is a meal in itself with hearty beans. Enzo's favorite is my Low-Carb Keto Creamed Spinach Casserole - it's rich, comforting, & so easy to make.
Other Side Dishes
Here are some other fun & tasty sides that are kid-approved. Soups, fried foods, & easy to hold finger foods. These are good side dishes for the kid in all of us.
20+ Best Kid-Friendly Side Dishes Recipes
Easy, tasty, & kid-approved side dishes. From simple finger foods to fancy vegetables, side dishes can be the best part of your kids' meals. These recipes include healthy, low-carb, gluten-free, keto, and other choices. All of these recipes are the best to make for kids.
Ingredients
Steamed Broccoli

Whipped Sweet Potatoes

Air Fryer French Fries

Slow Cooker Apple Sauce

Instant Pot Ranch Salt Potatoes

Mac & Cheese with Bacon

Homemade Onion Rings

Sweet Potato Cubes

Broccoli Salad
Instructions
Make your favorite kid-friendly main course.

Pick one or two side dishes to make.