If you are trying to figure out what to serve with french onion soup for lunch or dinner, this list is of sides is exactly what you are looking for. French onion soup is a comforting warm bowl and is a meal in itself with the rich broth, large crouton on the bottom, and bubbly cheese on the top. However, this hearty soup deserves a great side dish that goes well with them. Therefore, you will want to pick the best side dish recipe that goes with your favorite stew or any soup recipe.
I love making soups and stews in the crockpot so they can take all day to cook and there is not much work. At the end of the day, the slow cooker onion soup is ready and all I need is a quick side dish. When I don't want to just crackers or toast and I want a dinner that is a bit more filling or fancy, these are my go-to recipes. Whether you want something healthy, light, homebaked, or unique, I have you covered with so many choices on what to eat with a homemade french onion soup. All of these sides pair well with the rich beef broth, sweet onions, and savory cheese that make it so amazing. Which will you try first?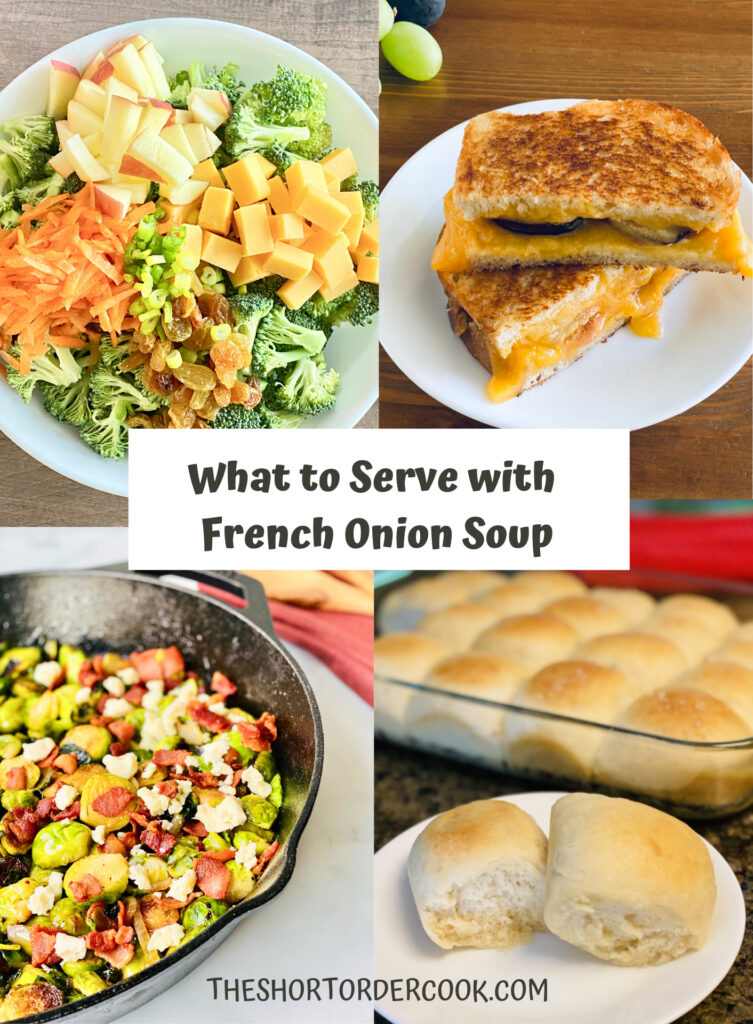 WHAT TO SERVE WITH FRENCH ONION SOUP
This is a tasty list of what to offer with a french onion soup. Based on your mood, preference, or diet, there is something for everyone. To help you decide what to serve with it, I have broken down the list into some subcategories that I shared below. There are wonderful salads, fresh-baked loaves of bread, vegetables, and more. There are also gluten-free, keto, low-carb, and healthy side dish recipes. This list of what to goes well with soup or stew includes:
Salad Side Dishes
Baked Goods Side Dishes
Vegetable Side Dishes
Other Side Dishes
Bonus - Desserts too!
Salad Side Dishes
With any soup, salad seems to be the ideal side dish. These recipes are a perfect match for the next time you have french onion soup for lunch or dinner. Pair one of these salad recipes next time and have a wonderful complete meal. 
Baked Goods Side Dishes
French onoin soup is a rich decadent recipe that goes well with breads and rolls. Even though there is a crouton in your bowl of soup, having fresh crusty or soft bread to dip into french onion soup is fantastic.  These are my favorite homebaked breads, rolls, and even a few keto & gluten-free chaffles too. 
Vegetable Side Dishes
For a healthy or rich vegetable side dish to serve with classic french onion soup, try one of these recipes.  
Other Side Dishes
For more delicious ideas to eat alongside french onion soup, try these other ideas.  This list includes sandwiches, fried foods, and pasta.  
BONUS - Desserts too! 
There is something about finishing a special meal with dessert. The next time you enjoy french onion soup, do not forget to make a wonderful homemade dessert. These recipes are great to finish off your meal with. 
PIN FOR SAFEKEEPING & SHARING!
Product Recommendations for this Recipe - #ad:
The Short Order Cook is a participant in the Amazon Services LLC Associates Program. As an Amazon Associate, I earn from qualifying purchases. If you click on a link and make a purchase, I may earn a small commission on the sale at no additional cost to you. This helps with the costs of running the blog. Thank you!