If you are trying to figure out what goes well with homemade sloppy joes for dinner, this list is exactly what you are looking for. Sloppy joes are a family favorite and a hearty hot sandwich on their own. But they really need a simple side to make a complete meal. Therefore, you will want to pick the best easy side dish to go with your favorite homemade sloppy joe recipe.
Whether you want a salad, soup, vegetables, or potato, we have you covered with so many choices on what to enjoy with your sloppy joes. Many fellow food bloggers have shared some of their quick and easy side dish recipes to eat with your homemade or Manwich-made sloppy joes. All of these sides pair well with the tomato sauce and ground beef that makes these hot sandwiches so delicious. If you love ground beef, my No-Bean Chili is also a winner.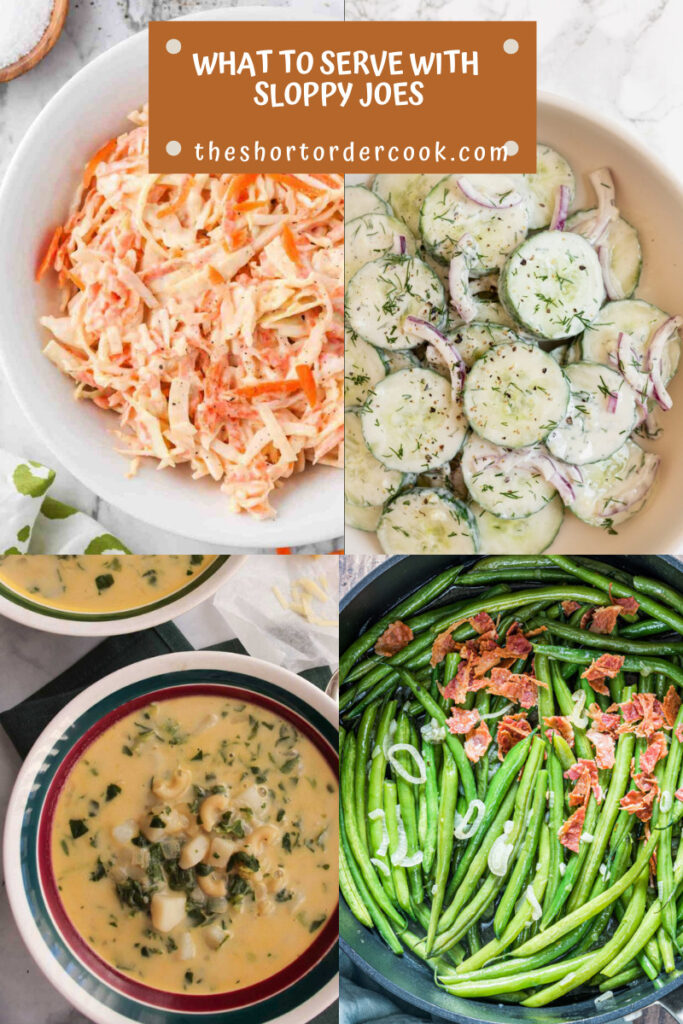 In our house, we have been calling these "Sloppy Miley's" for years. This is because it is one of Miley's favorite meals. Whether you call it a loose meat sandwich, Manwich, or sloppy joes, these are great things to eat with them. If you ever wondered why they are called "sloppy joes" find out at WONDEROPOLIS.
Best Grass-Fed Beef for Sloppy Joes
And for the healthiest grass-fed/grass-finished ground beef, I cannot recommend BUTCHER BOX enough. I have been using this service for a long time now and the entire family loves it. The healthier option of grass-fed beef and the quality of the cuts of meat is amazing.
Butcher Box is always running a deal for new customers so check out the latest and greatest. Find the latest deals for free high-quality meats or kinds of seafood. When I joined years ago I got the Free Ground Beef for Life deal! Along the way, I added a Free Bacon bundle. See what the latest deal is & SUBSCRIBE TODAY!
This article has links to products/services that may make us a commission. #ad
What to Serve with Sloppy Joes
This is a tasty list of what to offer with sloppy joes. To help you decide what to serve with sloppy joes, I have broken down the list into some subcategories. So based on your mood, preference, or diet, there is something for everyone. There are healthy salads, mayo-based salads, low-carb, keto, vegan, and fancy sides. This list of what to make with sloppy joes includes:
Side Dishes by The Short Order Cook
Salad Side Dishes
Potato Side Dishes
Soup Side Dishes
Other Side Dishes
Sloppy Joe Side Dishes by The Short Order Cook
I have a lot of amazing side dish recipes on the blog. So many of them go well with sloppy joes or any loose meat sandwich. Whether you want a salad, vegetable, or something fried and comforting, find these yummy ideas to eat as a side.
Complete your meal with the best sides to serve with sloppy joes. We personally love having french fries but you cannot go wrong with whatever you cook.
Salad Side Dishes for Sloppy Joes
Creamy Coleslaw
This classic recipe for creamy coleslaw is the perfect pairing for sloppy joes.
Check out this recipe
Creamy Cucumber Salad
A creamy garlic dill dressing is tossed with freshly sliced cucumbers and red onion for a simple side dish.
Check out this recipe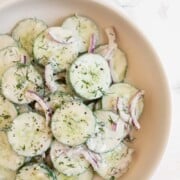 Potato Side Dishes for Sloppy Joes
Avocado Potato Salad
This wonderful no-mayo potato salad is full of flavor with corn, radish, and avocado.
Check out this recipe
Homemade Kettle Chips
For a crunchy side dish, homemade kettle potato chips are a must-have to eat with sloppy joes.
Check out this recipe
Soup Side Dishes for Sloppy Joes
Soup de Chalet Swiss Cheese & Potato Soup
A rich cheesy soup with potatoes and macaroni makes a comforting side dish.
Check out this recipe
Roasted Capsicum Soup with Basil Oil
The ultimate fancy roasted red pepper soup pair well with any sandwich.
Check out this recipe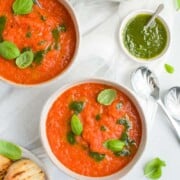 Other Side Dishes for Sloppy Joes
Healthier Breaded Mushrooms
Crispy breaded mushrooms are a crunchy and healthy side dish that everyone will love.
Check out this recipe
Smothered Green Beans
This quick green bean side dish with bacon is ready in just 20 minutes.
Check out this recipe
PIN FOR SAFEKEEPING & SHARING!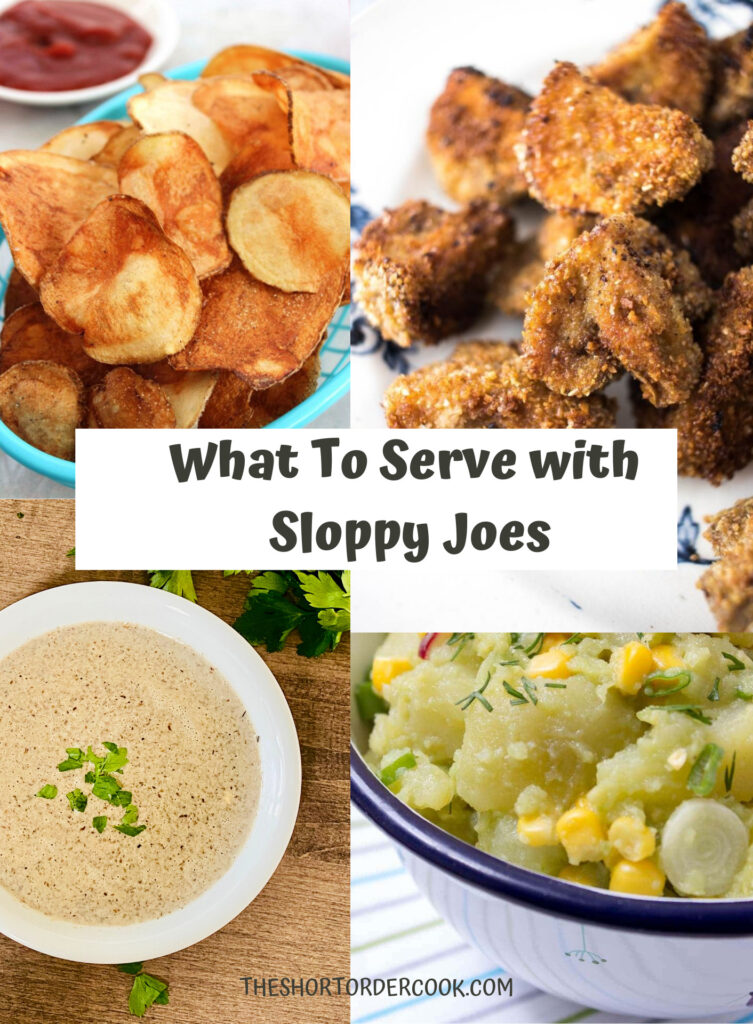 Product Recommendations for this Article:
The Short Order Cook is a participant in the Amazon Services LLC Associates Program. As an Amazon Associate, I earn from qualifying purchases. If you click on a link and make a purchase, I may earn a small commission on the sale at no additional cost to you. This helps with the costs of running the blog. Thank you!