If you are trying to figure out what to serve with shrimp burgers for dinner, this list is exactly what you are looking for. Burgers are a family favorite and a hearty hot sandwich on their own. We typically find that they only need a quick side to make a complete meal. Therefore, you will want to pick the best easy side dish to go with what your family enjoys. There are desserts too.
Whether you want a salad, fruits, vegetables, or potatoes, we have you covered with so many choices on what to enjoy with your next seafood burger or patties. These sides are great for backyard barbecues, cookouts at the beach, park, or tailgate parties, or even for a weeknight dinner. Whether you buy my favorite Trader Joe's Shrimp Burgers or make them homemade, enjoy a tasty one also with sauce and topping ideas.
This article has links to products/services that may make us a commission. #ad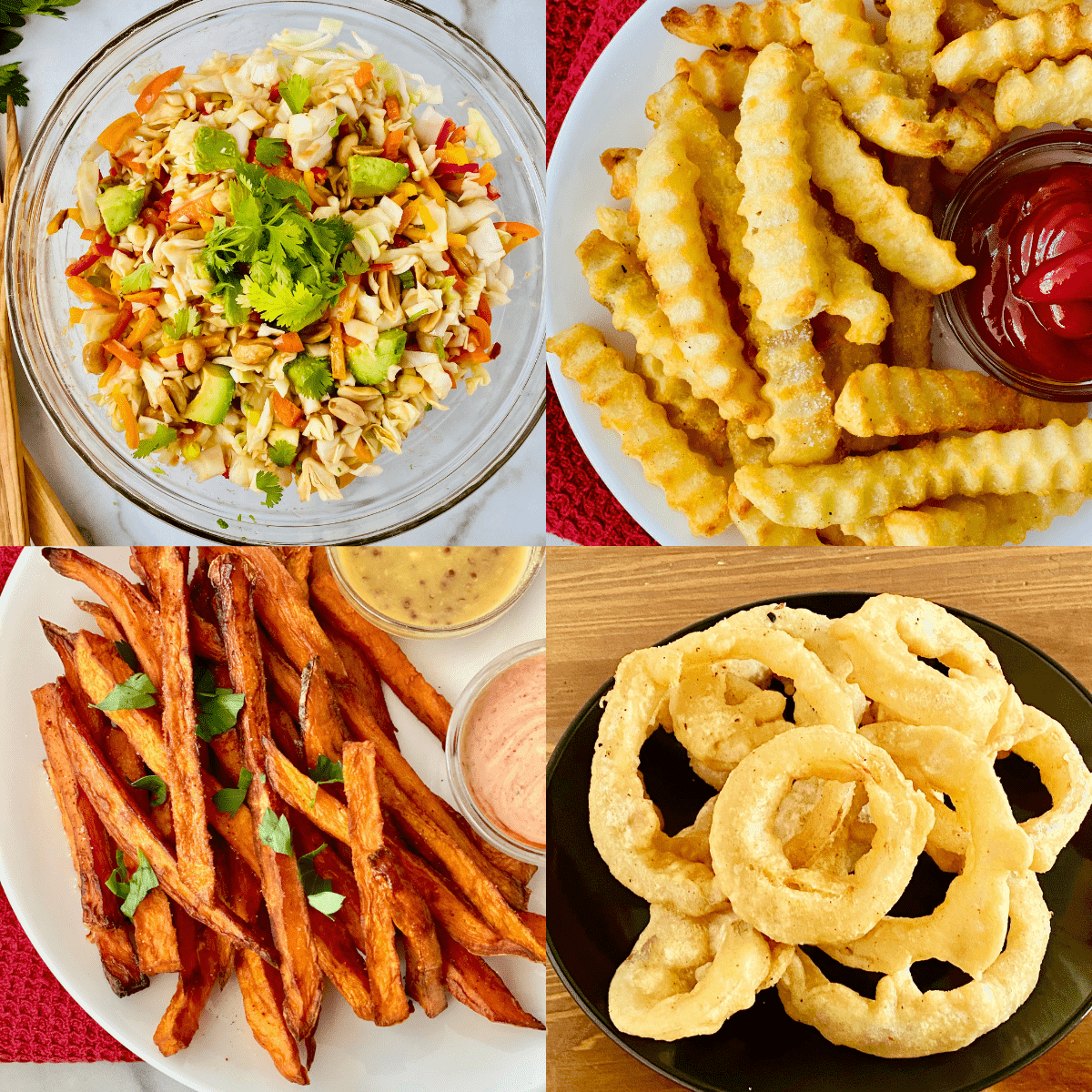 Jump to:
BEST SIDES TO SERVE WITH SHRIMP BURGERS
This is a tasty list of what to offer & eat with burgers.  I have broken down the list into some subcategories. So based on your mood, preference, or diet, there is something for everyone.  There are healthy salads, mayo-based salads,  low-carb, keto, and vegetable sides.  This list of what goes well with shrimp burgers includes:
Salad & Vegetable Side Dishes
Potato Side Dishes
Keto / Low Carb or Gluten-Free Side Dishes
Other Favorites - (drinks, comfort foods, & dessert too!)
If you want to know the best way to grill anything, including any kind of burger, you will want to review my post about GRILLING WITH THE LID ON OR OFF – ALL YOU NEED TO KNOW!
Salad & Vegetable Side Dishes
Potato Side Dishes
Keto / Low Carb or Gluten-Free Side Dishes
Other Favorites -
Here are some great recipe idaes for drinks, comfort foods, & dessert too! All of these go well with shrimp burgers.
Topping & Sauce Ideas
Enjoy a homemade sauce, dips, and these topping ideas to make a yummy shrimp burger at home!
Top your shrimp burger with more than just tomato and lettuce. Try some of these tasty additions to build a better burger.
Avocado
Fried Egg
Greek Yogurt Dressing
Dijon Mustard
Lemon Aioli
PIckled Onions
Capers mixed in your favorite dressing
Jalapenos
Cilantro
Old Bay Seasoning
Everything But the Bagel Seasoning
PIN FOR SAFEKEEPING & SHARING!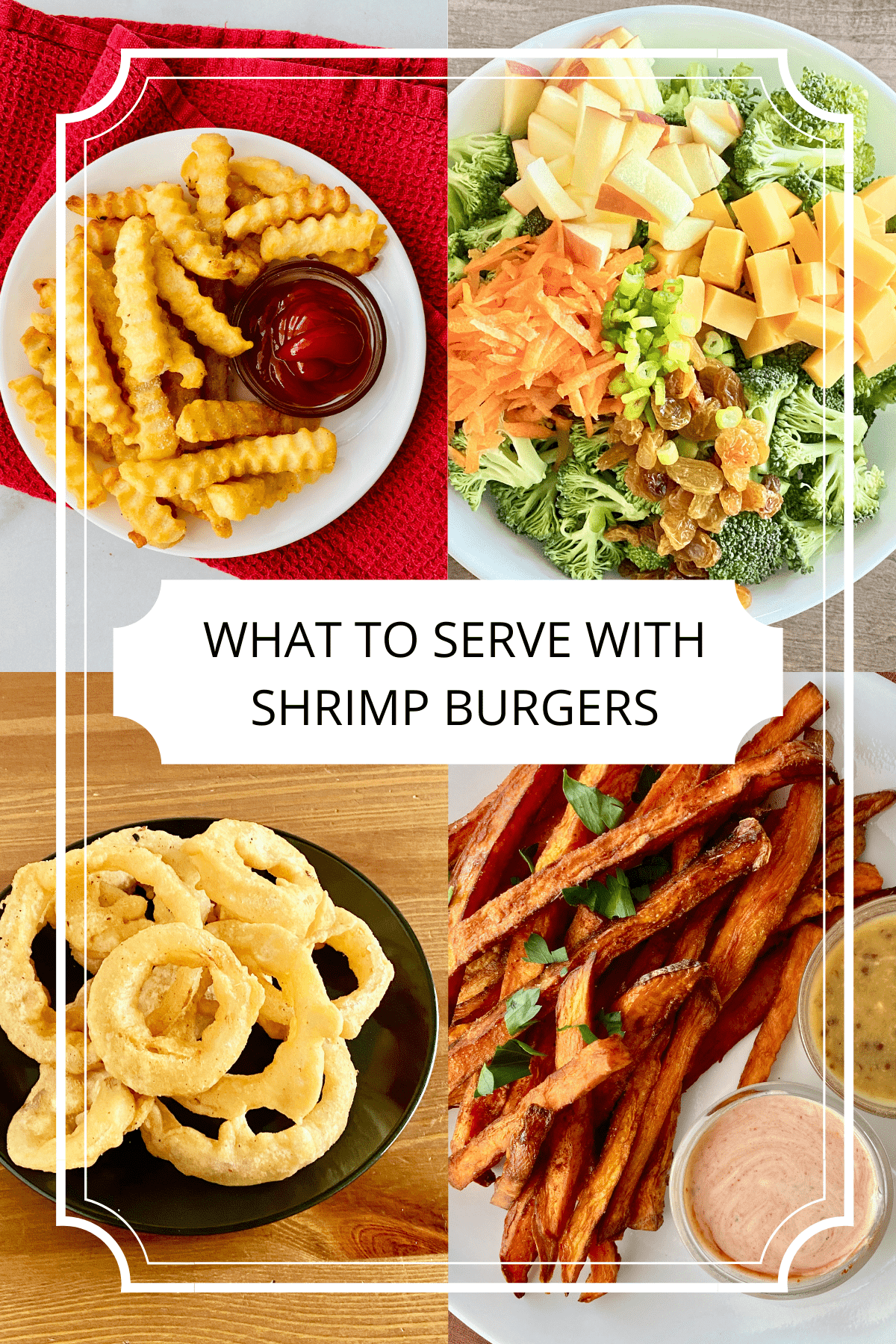 PRODUCT RECOMMENDATIONS FOR THIS ARTICLE:
The Short Order Cook is a participant in the Amazon Services LLC Associates Program. As an Amazon Associate, I earn from qualifying purchases. If you click on a link and make a purchase, I may earn a small commission on the sale at no additional cost to you. This helps with the costs of running the blog. Thank you!
Great Shrimp & Other Seafood
I get my shrimp, scallops, salmon burgers, cod, and more through my monthly Butcher Box subscription. I cannot recommend it enough. If you want quality wild-caught shrimp, salmon, and more you must give it a try.
This article has links to products/services that may make us a commission. #ad