For the best sides, salads, soups, & main dishes to serve with cornbread, try these yummy recipes. All of them go well with whatever form of cornbread you are making. So if you love a classic southern recipe or something else like hushpuppies, cornpone, corn cakes, griddle cakes, batter bread, or corn pudding, all of these recipes are what to serve with your favorite cornbread
If you love cornbread and miss it due to a low-carb, diabetic, or keto diet, fret no more. My Keto Cornbread Chaffles has all the flavors of cornbread. They are easy to make and only net carbs each. Plus the addicting crunchy outside and soft inside are a bit addicting. For a sweet corn pudding recipe that is an ultra-moist cornbread try my Green Chile Sweet Corn Casserole.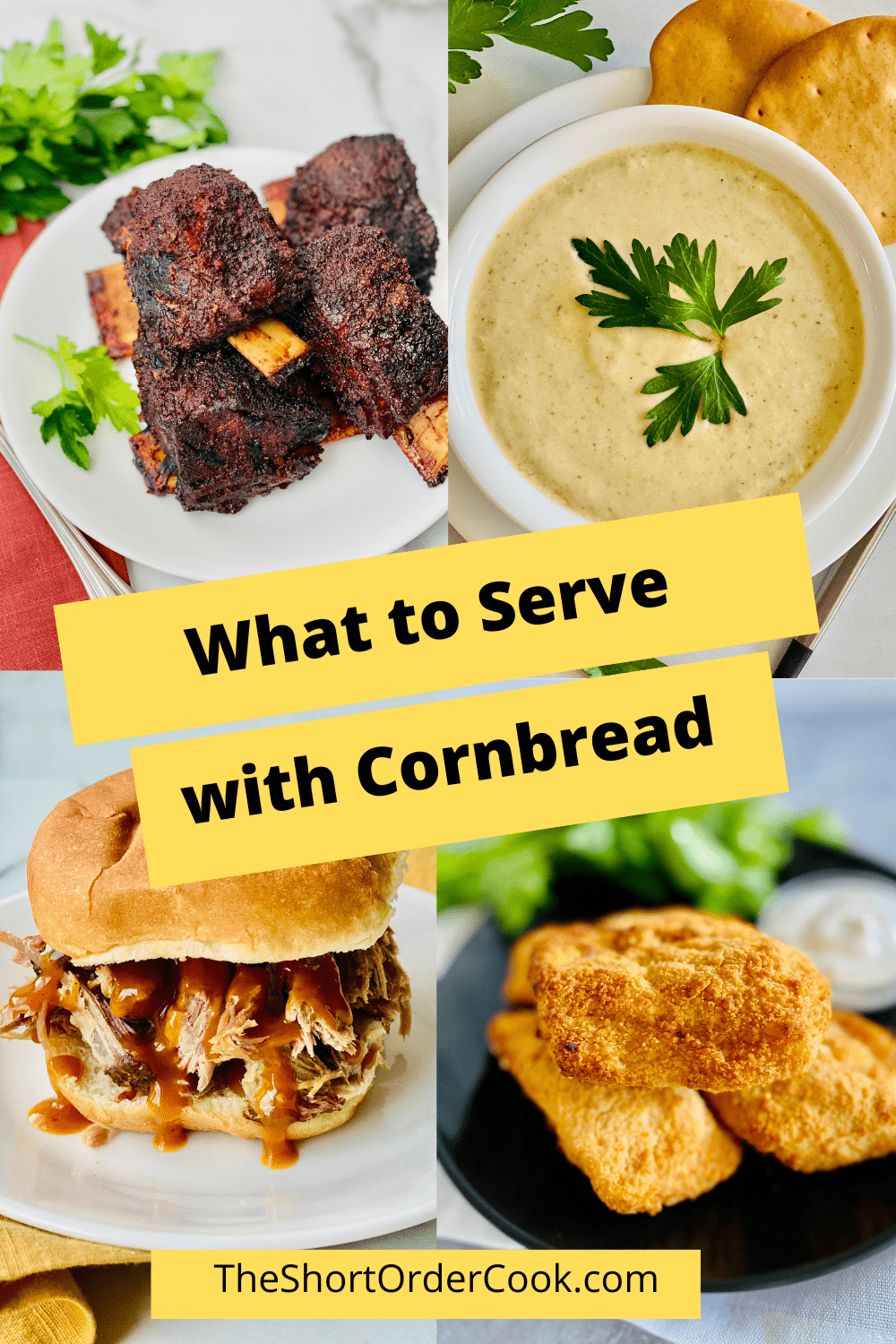 Now that you have a few of my favorite corn-inspired baked good recipes, let's figure out what else to cook up. In summer I personally love warm cornbread slathered with butter and a drizzle of Hot Honey with everything we make in our smoker. Then in winter a hot bowl of soup or chili served with cornbread just soothes my soul. You cannot go wrong with how you pair up these recipes - enjoy them all!
Best Soups & Salads
Here are some great soup and salad ideas that go well with cornbread. Serving these recipes with cornbread makes a wonderful lunch or a light dinner. Whether you want something vegetarian, gluten-free, keto, low-carb, or comforting, here are the best soups and salads to serve with cornbread.
Best Side Dishes
When completing a meal you may enjoy 2-3 side dishes. If one of those sides is cornbread and you are stuck trying to figure out what else to make, these recipes will save the day. All of these sides go well with cornbread to round out your dinner plate. There are vegetable, potato, and other sides including gluten-free, vegan, low-carb, and kid-approved recipes.
Best Main Courses
Cornbread can make the meal. All of these amazing main dishes go well with your favorite fresh-baked cornbread. Try one of these easy recipes to serve the next time you have a craving. Try my favorite no-bean chili, enjoy fried foods, grilled or smoked meats, or something sauce to dip that cornbread into. You cannot go wrong with these yummy main courses.
These dinner recipes include vegetarian, low-carb, keto, gluten-free, and healthy options. I have included CrockPot, Instant Pot, & delicious BBQ. So whether you want some chicken, seafood, steak, pork, or a meatless meal, these are the best recipe ideas to serve with cornbread.
Equipment Needed
Whether you are baking cornbread or making one of these great recipes, make sure you have what you need. Here are my recommended kitchen items to ensure cooking is easy and tasty. Also a few ingredients for making keto or gluten-free cornbread.
The Short Order Cook is a participant in the Amazon Services LLC Associates Program. As an Amazon Associate, I earn from qualifying purchases. If you click on a link and make a purchase, I may earn a small commission on the sale at no additional cost to you. This helps with the costs of running the blog. Thank you!