These winter favorite recipes include all the best soups, salads, entrees, desserts, and more. There are so many choices that everyone will love including those with protein, fruits, nuts, grains, or squash. Some of the best comfort foods are craved and warming when the weather is cold outside. There is something about baking or cooking in the oven when winter arrives to have a home-cooked meal. Many seasonal produce favorites are in these winter ideas such as kale, butternut squash, beets, sweet potatoes, broccoli, apples, pears, cranberries, pomegranate seeds, nuts, and more.
Combine any or some of these winter ingredients for a nutritious, healthy, and delicious meal. These winter recipes offer it all; vegan, vegetarian, paleo, gluten-free, grain-free, protein-packed, or Whole30. They all showcase the best winter has to offer and homecooked cozy meals have never been easier. There are also light winter ideas, try these meals on a budget for some new recipes.
Winter Drinks, Appetizers & Soup Recipe Ideas
Shared here are some tasty cocktails, snacks, appetizers, small bites, and soups. The recipes include wonderful ideas for something comforting or seasonal in winter.
Winter Side Dish & Salad Recipe Ideas
Winter produce is the star in these sides, vegetables, and salad recipes. There is so much to love and enjoy when you serve one of these comfort food classics or something new to discover.
Winter Main Course Recipe Ideas
Comfort food in winter is often what we crave for good reason. As the temperatures drop we want to find warmth through food. This often includes baked, sauces, gravies, cheesy, and hearty dishes. You will discover all those types of entree recipes here that are perfect to make all fall and winter long.
Winter Baked Goods & Dessert Recipe Ideas
When the cool weather arrives, it is a great time of year to get that oven going. For that time of year when you want to smell fresh-baked bread or cookies, try one of these recipes. All of them are just the thing to warm up your chilly day.
PIN FOR SAFEKEEPING & SHARING!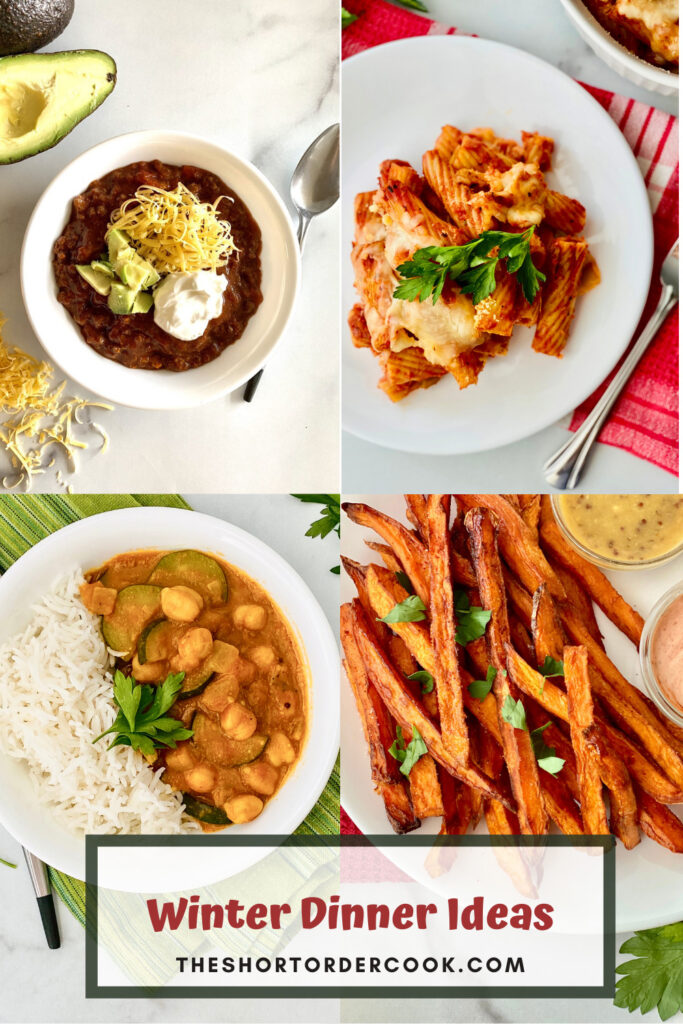 Product Recommendations for this Recipe:
The Short Order Cook is a participant in the Amazon Services LLC Associates Program. As an Amazon Associate, I earn from qualifying purchases. If you click on a link and make a purchase, I may earn a small commission on the sale at no additional cost to you. This helps with the costs of running the blog. Thank you!
Did you make this The Short Order Cook Recipe?
Tag @theshortordercookblog (Instagram & Facebook) or @shortorder_cook (Twitter).
I would love to see your latest creations and kitchen adventures.