Hosting a party can be daunting and a lot of work but is so much fun and worth it in the end.  Planning a party menu ahead of time is the most important thing to ensure your event is a success and you also get to enjoy the fun, food, drink, & your guests.  This list of party ideas includes yummy, simple, easy, and make-ahead recipes that are the best for cooking and baking for the next gathering.
Whether your celebration is for a birthday, anniversary, wedding or baby shower, retirement party, Halloween, Christmas, or New Year's Eve, all these recipes are the best food and drink ideas for parties. If you are having an after-work happy hour, social event, bbq with neighbors, or a small gathering at home, try one or more of these party foods or cocktails for your next fun party.  Enjoy the party and do not be stuck in the kitchen when you make these easy make-ahead tasty recipes.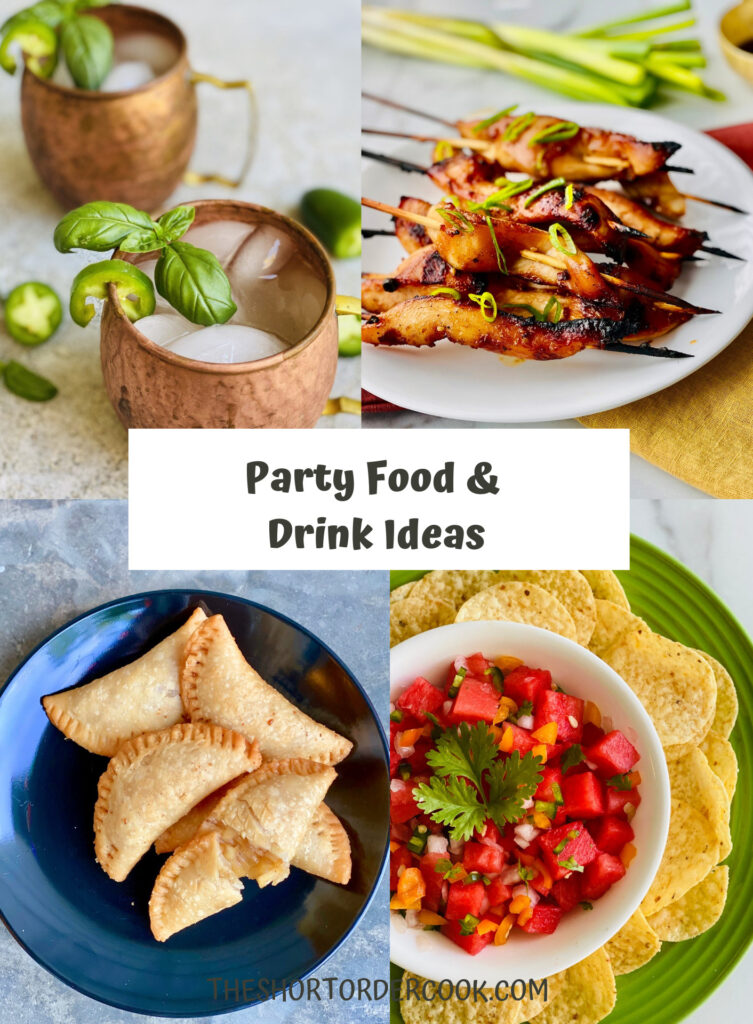 A party does not have to be difficult to plan and a lot of work. Many of these recipes are easy to make. In fact, I have included frozen party food ideas that you can have ready in minutes especially if you have an air fryer. If you are having a baby shower check out Blue Food & Drink Ideas or Pink Food & Drink Ideas.
For a great list of recipes to make and serve at parties, all these party foods and drinks are the best ideas.  There is a combination of easy & elegant party recipes to ensure your next celebration has the best food and drink for guests.
Party Cocktail Recipes
Here are the best cocktail recipes for your next party.  There are tequila, rum, and vodka drinks to serve at your party.  One includes making pitchers of a cocktail so you have plenty to keep pouring and the party cheer going with some fresh mojitos.
Party Finger-Food Recipes
All of these party finger foods are budget-friendly and easy to make.  They are make-ahead recipes that are great for a party, dinner appetizers, or snacks to put out for your guests. Make one or more of these recipes for your party and you will have time to enjoy your guests. There are vegan, vegetarian, and gluten-free recipe ideas here to make for the next big party or event.
Healthy Party Recipes with Protein & Vegetables
Here are some party recipe ideas that include meat and protein. These recipe ideas for your next party to have for low-carb, keto, gluten-free, or paleo appetizers and snacks. There are party salads and vegetable ideas here as well for something healthy for your guests, including vegan & vegetarian recipes.
Party Sweet Drinks & Desserts
Every good party has something sweet to finish off the celebration. Here are the best dessert cocktails, drinks, and desserts. This includes cookies, cheesecake, candies, and more for your next party.
Breakfast or Brunch Party & Drink Ideas
If you are hosting a brunch or breakfast, these recipes are the best ideas to make and serve.  Whether you are cooking for a baby or bridal shower, Mother's Day brunch, or Christma breakfast, here are yummy recipe ideas for that celebration.
PIN FOR SAFEKEEPING & SHARING!
I hope you have all the recipes you needed to make your party memorable. Mix a few drinks, set out some finger foods, and get the music going. Don't forget to order some party decorations too.
Product Recommendations for this Recipe - #ad:
The Short Order Cook is a participant in the Amazon Services LLC Associates Program.  As an Amazon Associate, I earn from qualifying purchases.  If you click on a link and make a purchase, I may earn a small commission on the sale at no additional cost to you. This helps with the costs of running the blog. Thank you!
Did you make this The Short Order Cook Recipe?
Tag @theshortordercookblog (Instagram & Facebook) or @shortorder_cook (Twitter). 
I would love to see your latest creations and kitchen adventures.